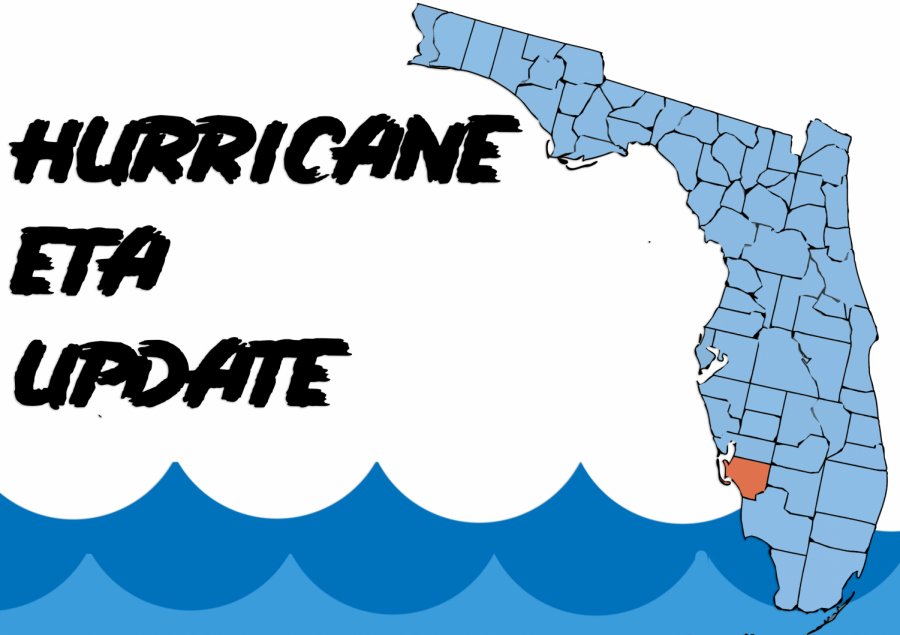 Melanie Pena
In Florida, hurricanes are an inevitable part of life. The months of June to November are the duration of its Hurricane Season, with it peaking in September. Recently, there has been yet another hurricane brewing in the Caribbean. On November 7th, Hurricane Eta made landfall in Cuba, causing lots of damage. As of November 8th, it is now travelling in the direction of Florida. There is a Hurricane Statement and Tropical Storm Warning currently issued for much of Florida, and in order to maintain safety, many students at Cape Coral High School have been getting prepared for the upcoming storm.
In an effort to keep students and staff safe, The Lee County School District has implemented certain measures. As stated yesterday on their website, "Out of an abundance of caution, District schools and offices will be closed tomorrow, Monday, November 9, 2020. The closure includes all virtual learning students, before and after school activities, athletic practices and competitions, and adult classes."
Junior Dana Lara is pleased to know that the district has closed schools down for today. "Having tomorrow off because of Tropical Storm Eta is nice because I get to get caught up on homework." 
She prepared for the storm by bringing in items from the outside of her house inside in order to prevent damage. "I brought in all of our loose furniture that was in the lanai so it wouldn't break the screen if there's strong wind."
Junior Natalie Handzlik has been staying well informed about the storm. "Other than the election going around, Florida has a hurricane coming it's way. There are many paths that Hurricane Eta could possibly go. One of those paths is directly going through Lee County. I have been checking hourly and saw the Hurricane progress from south of Barbados, first hitting Nicaragua, then took a sharp right turn, hitting Cuba, and the prediction is left turn, hit Key West, and then another right turn. First developed as a tropical depression, and turned into a hurricane one more time. We will be taking action by putting up shutters and buying what will be essential."
Many Floridians have become accustomed to experiencing weather like what's to come. Sophomore Jennifer Gongora-Caruncho stated that her preparations for Eta are very similar to other storms she's experienced while living here. "Honestly, [my preparations are] not as much in comparison to Irma, just buying lots of water and making sure we have enough supplies."
Another Junior, Bridget Wawrzyniak, wasn't too aware of the storm and it came as sort of a shock to her and her family. "Honestly, I haven't heard much about the storm because all the news has been talking about is the election. Our family pulled in anything we had loose around the house to keep it from blowing away." 
Unlike many others, Freshman Dylan Smiley did not prepare for the storm at all. "I don't think I'm doing anything to prepare [for Hurricane Eta]."
To follow along with Smiley, Senior Grace Mcgugan is also did not take any extra measures in preparation for the storm. "I did just receive a call that the District will close schools for Monday the 9th and they might close it for a while longer, if I had to guess. I wouldn't particularly say my family is doing anything to prepare, we are not really worried about the storm."
Tropical Storm Eta is currently about 168 miles away from Cape Coral. The weather that Lee County bared today was not severe with winds reaching an average of 13mph and a rainy morning.