Wednesday was the perfect "soul-sucking void of meaningless affirmation"
"Drip is for people who hate themselves and know their lives have no real purpose or meaning."
Wednesday, starring Jenna Ortega as the ghoulish and disturbed Wednesday Addams, is a fantastic series that deserves all the attention it is receiving. 
The show follows Wednesday, the recently expelled high schooler sent off to a boarding school for outcasts: Nevermore Academy. There, she explores the mystery surrounding a monster in the woods, uncovers a decades old mystery, and the most horrifying thing of them all: makes new friends. 
Wednesday is what modern shows based off of classic television should be. The original essence of the Addams family is encapsulated perfectly in this show, while still giving viewers something new and refreshing to see in these classic characters. 
Wednesday is now a teenager, however, she is still the Wednesday Addams that is known and loved by all. Ortega captures the dark and slightly horrifying aspects of Wednesday that Christina Ricci created in the '90s as her portrayal of Wednesday Addams. 
Ortega's acting skills were phenomenal. There couldn't have been a better casting for Wednesday in this modern take. Wednesday's dance at the Rave'n Dance was iconic. Her choreography made perfect sense, and showed how much work Ortega was willing to put forth in order to accurately portray her character. 
The commentary throughout the show was excellent. Wednesday's script laid true to her character, as statements like "I'm not interested in participating in tribal adolescent clichés," and "They couldn't even spring for real pig's blood. It's only paint," made viewers feel like this was the real Wednesday Addams known for decades. 
Christina Ricci, to fans' delight, did return to the Addams family world as Marilyn Thornhill, the only "normie" teacher at Nevermore Academy. A character that originally appears harmless and only there to support Wednesday, Ricci's character would go on to be one of the most influential in the entire show. 
Ricci's acting did not disappoint, and when it came time for her character, Marilyn Thornhill, to shine, she delivered on all aspects. Cheerful for the most part and dark and mysterious when necessary, it was exciting to witness Ricci return and act with her childhood character. 
The plot of Wednesday was nothing to sleep on either. Intriguing and leaving viewers on the edge of their seats, it was almost impossible to tell what was happening in this show until it was revealed. 
A refreshing change from most teenage dramas produced today, Wednesday made sure that the plot would keep viewers interested and impatient for the next clue to be released. 
Perhaps, however, what Wednesday succeeded on the most was the realistic portrayal of friendships. TV often misleads viewers by creating inaccurate representations of what friendships are like. 
Friendships are messy, but they are wonderful, and Wednesday's relationships with her peers evolving throughout the season was executed beautifully. 
They didn't feel perfect, and that's what makes these relationships so amazing. Friends fight, they mess up, but they are always there for each other when they need them the most. 
Wednesday crafted some of the most beautiful friendships of any modern TV show. 
To conclude, Wednesday captured the elements of the original Addams family perfectly. It gave Wednesday a more modern version of herself that still captured every aspect of her character that viewers have loved for decades, thanks to Ortega's performance. The plot was excellent, and the friendships throughout the season were a joy to watch. 
Leaving a vague ending to an excellent season, viewers cannot wait for the next installment. 
About the Contributor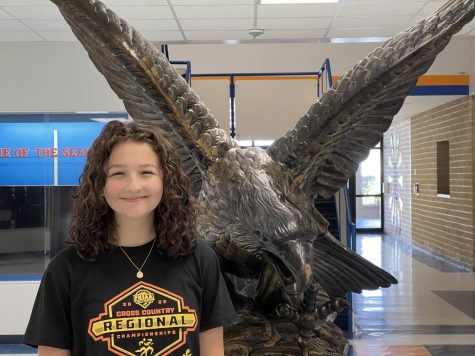 AJ Cudnik, Editor-in-Chief
In the words of Taylor Swift, "I'm intimidated by the fear of being average."