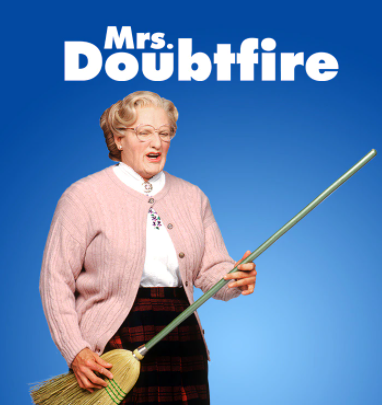 Mrs. Doubtfire is a perfectly blended masterpiece
One of the best things to do when with friends, having a slow weekend, or just wanting to relax is watching older movies. For some, they evoke nostalgia, for while others they are just a classic that keeps on giving. While there are hundreds of movies like that out there, one stands out as an underrated piece of gold.
The movie Mrs. Doubtfire was released in 1993 and has classic comedy written all over it. The characters are humorous and relatable while the plot is simply wonderful. 
The beginning of the movie shows a family going through a divorce. The mother, Miranda (Sally Field), is fed up with her husband, Daniel Hillard (Robin Williams), for not contributing, being immature, and overall messing up the family. When they separate, the court rules that Daniel is only allowed to see their three kids once a week.
Due to this, Daniel is devastated and begins to struggle with depression, wanting to see his kids for more time. Eventually, he comes up with an elaborate and hilarious plan. 
He uses his skills from his job as a voice actor, and his brother's skills as a makeup artist, to create a sophisticated British alter ego, Mrs. Doubtfire.
He finds an ad that Miranda has made asking for a nanny, and calls in to show his interest with his new alter ego. After tons of terrible applications, he uses Mrs. Doubtfire's character and background to get the job. Throughout the rest of the movie, he has to go through numerous obstacles, such as learning to cook a five-star meal, dealing with his ex-wife's new boyfriend, and getting his face run over by a car.
One of the parts of the movie that makes it so unforgettable is Robin Williams' performance. Using his genius voice acting skills and funny sarcasm, he nailed the role of both Daniel and Mrs. Doubtfire. It would be hard to find another actor to fit these roles just like he did due to his unique personality. Daniel's absurd character, along with Mrs. Doubtfire's hidden humor, makes the dynamic brilliant.
Many of the scenes are unforgettable, and by far the greatest scene in the movie is the transformation from Daniel to Mrs. Doubtfire, which never fails to make me laugh.
While the movie is a comedy, there are some very emotional scenes that may make you think about life and love while salting your popcorn with tears you didn't realize were coming out of your eyes. The different parts of the movie blend together into a perfect cinematic masterpiece.
While watching this movie, I found myself relating to the characters and wondering what they were thinking about. 
Mrs. Doubtfire is the perfect movie of family, seperation, and getting over loss. Anyone can enjoy this movie and for some like myself, it is the single movie that lives in the back of their head for their whole life.
Donate to The Seahawk's Eye