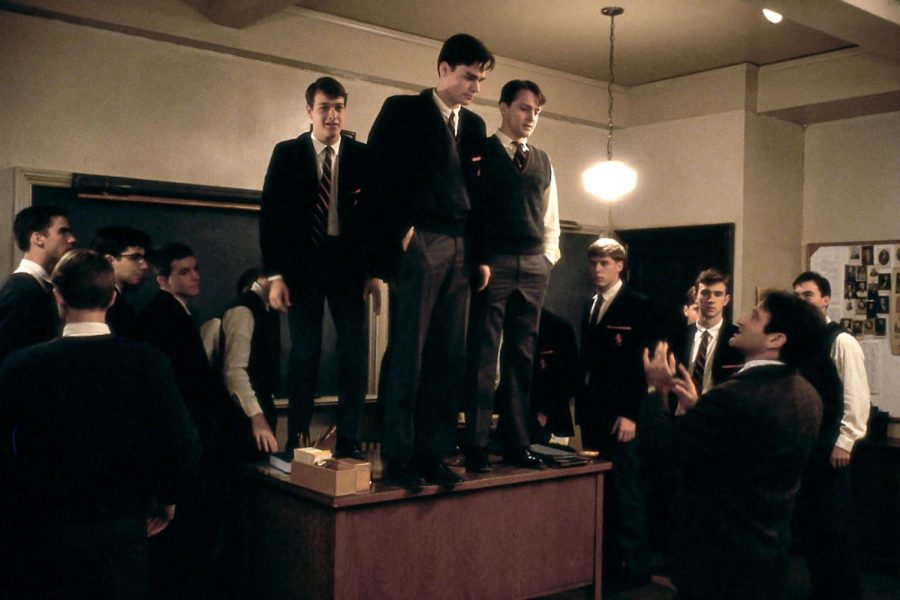 Dead Poets Society is still a one of a kind film to watch
A prestigious boarding school with an even more prestigious reputation, Welton Academy is home to the wealthy boys of 1950s Vermont. Dead Poets Society speaks to the mental struggles faced by high achieving students, and how placing teenagers in an unhealthy environment can lead them to do the unspeakable. 
The film centers around Todd Anderson, played by Ethan Hawke, and his struggle of being shy and closed off from the rest of his classmates. Through the encouragement of his unorthodox English teacher, John Keating, played by Robin Williams, Todd and his roommate Neil Perry, portrayed by Robert Sean Leonard, create "the Dead Poets Society." 
What starts as a club about reading forgotten poetry, turns into a bond of brotherhood between Todd, Neil, and their classmates. Their relationships grow as Todd learns that he is more than what his parents desire him to become.
Director Peter Weir, well-known for his work on The Year of Living Dangerously and The Last Wave, created a beautiful film that is concise for its running time and has a connection between the audience and the on-screen performances. Even though the film takes place in the 50's, viewers can connect with the turmoil students face throughout their academic and personal lives.
Perhaps the most famous scene in the entire film is the "O Captain, My Captain" speech given by John Keating. An astronomical performance by Williams, the raw emotion and joy felt through the screen was something that could not be forced. Williams' interactions with Hawke and Leonard flowed flawlessly and so realistically, it seemed like the viewer was sitting in a desk next to them, watching the scene unfold. 
An amazing actor, Williams was a wonderful choice to play the unconventional English teacher. His way of enchanting the audience with his verbal and non-verbal cues is only something that Williams can pull off. While no-longer with us, his impact will be remembered in many films, and this one is no exception.
The relationship between Todd and Neil is one of the most powerful things to witness on-screen. Their chemistry is one of a kind; they beautifully display their relationship as comrades through the Dead Poets Society. Poetry becomes more than just a way of writing, it becomes a connection between the two friends, and Hawke and Leonard couldn't have performed better. 
The soundtrack of the film is nothing to sleep on either. Composed of mostly classical-themed pieces, the songs contribute to the conservative message that Welton Academy is trying to convey. The pieces together impact some of the most important scenes of the movie, including the "O Captain, My Captain" scene. The soft melodies and harsh climaxes of the songs draw attention to the characters, as much as they do the environment. 
Dead Poets Society is an impactful film that moves to speak wonders about student's mental health and social upbringings. Often overlooked, high members of society and their children seem as though they have it all, not wanting for anything. However, Dead Poets Society shows that teenagers of all social and economical backgrounds look for one thing throughout their years: to be understood. Through the powerful acting of Williams, Hawke, and Leonard, the lives of Todd Anderson, Neil Perry, and John Keating, come together in a way that only talent could bring.