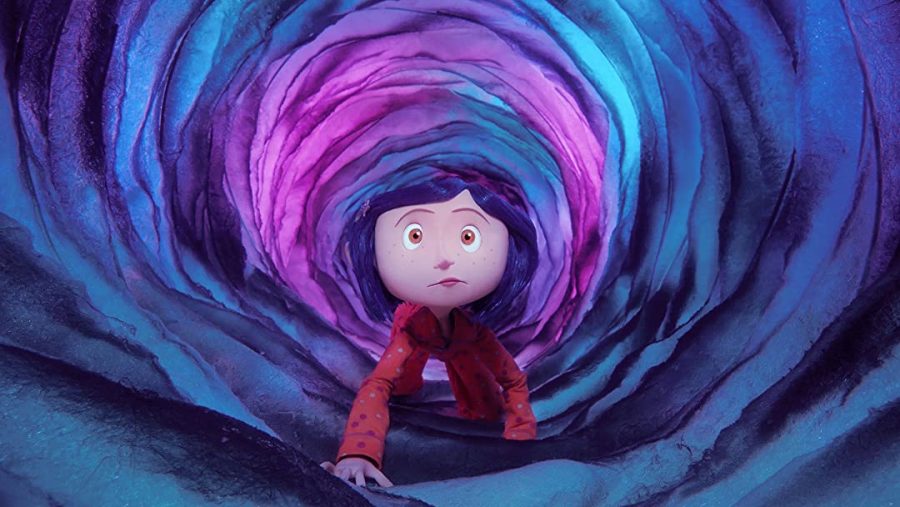 For a kids' movie, Coraline is surprisingly ghoulish
Coraline is whimsical and unpredictable, and isn't just a movie, but a world of imagination.This movie is filled with amazing and beautiful wonders that bring back all of your nostalgic memories from your childhood years.
Adventurous eleven-year-old Coraline Jones, voiced by Dakota Fanning, explores her new home and realizes that an unusual tiny door in her home is a portal to a world that is an exact replica of her world, but an idealized version. At least, that's what she thinks.  
Best known for his work on The Nightmare Before Christmas, famous director Henry Selick directed Coraline. These two amazing films stick out to viewers not only because of the great storylines, but also because they were created only through stop motion animation.
Selick also includes amazing soundtracks that contribute to the mood of the movie and the events taking place in certain scenes. Coraline is a darker themed movie and Selick helps build that feeling with eccentric and at times, uncanny music. 
Much like his film The Nightmare Before Christmas, despite being a children's movie, Coraline has mature scenes and hidden details and messages, which make watchers even more curious. Selick also created very abnormal characters for both of these movies that catch the viewer's eyes.
For example, in the movie there is a scene where Coraline was punished by the "Other" Mother and is put into a cell with the ghosts of three other children killed by her. This event gives the audience an idea how long the "Other" Mother, later referred to as "the Beldam," has been taking children.
Years after the film was made, people were still left with curiosity as viewers don't learn much backstory about the "Other" Mother. However, Wybie's story about his grandmother's sister going missing while living in the same flat as Coraline's family years before, lets the audience know she's been around for a while. 
The movie also has a character that happens to be a cat, voiced by Keith David. In the movie, the cat helps guide Coraline and even tries to warn Coraline to not go through the door, but she doesn't listen. The cat also has the ability to go to the "Other World" where he helps Coraline realize it's all fake, and also helps her escape the "Other" Mother. 
Towards the end of the movie there are scenes that keep people on the edge of their seats. For example, once things take a huge turn, Coraline manages to escape, but then to her surprise her parents have vanished.
Throughout the movie Selick grasps the attention of the audience by making them think all is well, and then later revealing the dark truths of what, in reality, was happening. This creates a great experience for the audience and keeps them intrigued.
In conclusion, Coraline is a movie filled with imagination, that allows the viewer to literally step into another "world." Although people wished there was more of a backstory on the "Other" Mother, it is a must see film.