Outer Banks cures boredom
During quarantine, many people have had a lot of time to catch up on the most popular shows on Netflix such as "Too Hot To Handle," "All American," and most importantly, "Outer Banks." This story of teens who live on the Outer Banks islands in North Carolina is a drama that will captivate you from the moment you sit down. 
The main character of the story is John B. who is a boater, hard worker, and orphan. After the tragic death of his mother and father, he makes a living working for the rich with his friends, but parties hard on the weekends. As the show goes on, the mystery of his father's death unfolds, and along the way they run into secrets, lies, and a lot of money. 
The show consists of 10 episodes and only has one season. While there is no confirmation on a second season, it has been in the Netflix Top Ten since it released on April 15.
The show portrays actor Chase Stokes as the character John B. Chase Stokes is 27 in real life, but plays the role of around a 16 year old in the show. Madelyn Cline plays John B.'s love interest, Sarah, in the show who is around 22 years old. Actors Johnathan Daviss, Madison Bailey, and Rudy Pankow also play roles in the show. 
Although the show's setting is in Outer Banks, North Carolina, it was actually filmed in Charleston, South Carolina. While this may seem odd, the producers had their reasons. 
Around January 2019, North Carolina attempted to pass House Bill 2, a.k.a. "The Bathroom Bill." This bill stated that people had to use the bathroom of the gender that was stated on their birth certificate. 
This became very controversial in the state and was deemed discriminatory against the LGBTQ+ community. In the end, both Netflix and the producers on Outer Banks agreed it would be in their best interest to film in South Carolina. 
The inspiration from this show was drawn from classics like "The Outsiders" and "The Goonies." The executive producer was Jonas Pate who also directed the hit TV show, "Friday Night Lights." Jonas Pate had grown up near the Outer Banks, which was very helpful when planning out scenes and settings of the show. 
Even most of the cast members or crew had grown up in North Carolina or lived near coastal areas before, which played a tremendous part in executing the realistic lifestyle of the story being told. 
"Outer Banks" is a must watch show, especially on the extended break-away from normal. Most finish the show within a day due to its never ending twists and turns and genius writing that keeps the audience captivated and on the edge of their seats. 
Fans hope to see a second season soon that will answer all of our questions that were left unanswered at the end of the first season.
About the Writer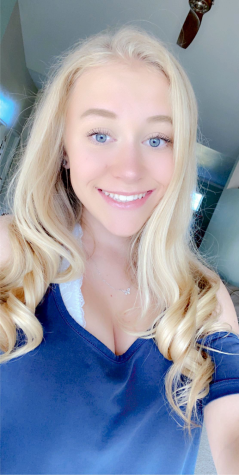 Katelyn Bly, Staff Reporter










junior, cheerleader, soccer player, IB student, and I ♥ m&m's