Gulf Coast Village saves lives through preventative measures
Even as stay-at-home orders expire, the Coronavirus outbreak continues to threaten the livelihood of Lee County residents. However, certain groups are at higher risk of infection than others. According to the Center for Disease Control and Prevention (CDC), members of the vulnerable population include people with underlying health conditions and those over the age of 65. Nursing homes are of particular concern. 
 Gulf Coast Village is a retirement community with independent living and assisted living apartment homes located just up the road from Cape Coral High School on Santa Barbara Boulevard. Kevin Ahmadi, Area Director of Operations for Gulf Coast Village and The Preserve of Fort Myers, describes some of the protective measures local facilities are taking against Coronavirus.
"Gulf Coast Village maintains a comprehensive emergency management plan that is updated and filed with Lee County Emergency Management every year." 
They began preparing for the pandemic in March. "Gulf Coast Village implemented processes and procedures prior to the Governor's Executive Order for Long-Term Care Facilities. As of March 12th, 2020, we began restriction of all non-essential visitors and guests from entering any area of the Gulf Coast Village campus," Ahmadi said.
Some of the early steps Gulf Coast Village leadership took to protect its residents include limiting visitors and improving cleaning techniques. Independent Living residents attended Town Hall Meetings on health and safety prior to the local disease outbreak. All staff and residents who leave the facility are thoroughly screened and monitored upon their return. Activities have been modified to follow social distancing guidelines. 
The lifting of stay-at-home order has not led to much change at Gulf Coast Village. "Phase One of Governor DeSantis' reopening plan does not apply to Long Term Care facilities," Ahmadi said. "We continue to encourage our residents to refrain from unnecessary outings outside of the Gulf Coast Village campus. We provide alternative options for shopping and food delivery. We encourage all non-essential physician visits to be postponed until after this crisis."
Many are not aware that even the most minuscule actions of the general public can present major obstacles to members of the vulnerable population.
"Recent research reporting has shown with the novel Coronavirus once it is in the general population it does reach the vulnerable population, so the actions out in our communities play a role for those in our care community. Again, we encourage everyone to please practice proper hand hygiene, social distancing and proper cough/sneezing etiquette, refrain from congregating in groups greater than ten persons, and wearing a facemask when out in public." 
Cape High students can offer support to Gulf Coast Village residents by mailing in cards and letters. Staying at home and wearing masks when going out in public makes a big difference too.
About the Contributor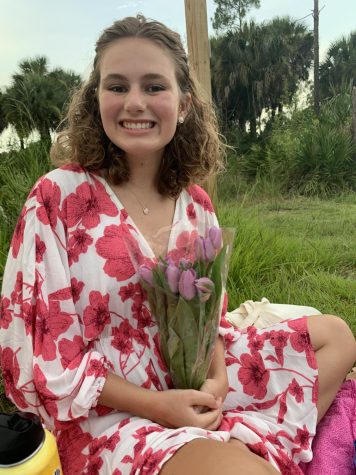 Ella Casto-Waters, News Editor
I love you and hope you have a nice day.