Contact tracing causes confusion
As the end of quarter 1 approaches, it is no surprise that Covid-19 positive students and teachers at Cape High have been sent home for the mandatory fourteen day quarantine period.
In addition to those who have tested positive, students in close proximity to one another were also sent home. This was done through a process called contact tracing. 
Generally, people are considered exposed if they were less than 6-feet away from someone for more than 15 minutes.
Principal Christian Engelhart explained that "Really all contact tracing is done by the Florida Department of Health. Basically, if we become aware of a situation, we report it to our health services department at the school district, and then they facilitate everything with the Department of Health." 
When a student contracts corona, the Department of Health and school work to find those who were sat near them during classes or lunch. 
"I sat next to [someone who tested positive] in my IB Biology and my IB Psychology class, along with having lunch with them," stated IB Senior Bethany Warren who was contacted on September 25th.
Once a student is identified, they are notified of their risk.
"In 1st period, I got called to the nurse," said sophomore Bailey Spotz. "When I got there I was sent to the 'isolation room' with 5 or 6 other kids."
From there, students are informed to remain home and stay away from the school building, extracurriculars, and any public spaces.
The transition from in person school to Lee Home Connect (LHC) has proven difficult for Warren and Spotz. "I have no idea how LHC students do this every day. The classes feel optional and there's little to no structure," stated Warren. "I know the teachers are trying their best, but you definitely lose understanding over Zoom."
Spotz also believes she is missing out on valuable class time, stating, "None of my classes are hybrid or have any zoom calls. I'm basically just checking Google classroom and trying my best."
Since then, the district has improved its methods of communication, which varies per case. While away from school, "The students are given an 'excused absence' code in the online grade book," said IB chemistry and theory of knowledge teacher Dana Isaac.
These past few weeks, Isaac has had several students contact traced and sent home from school. "I went into this school year knowing that students would test positive," she explained. "I am just praying that everyone who tests positive returns back to school as soon as they can and don't have any lasting health issues."
The same can be said about most teachers at Cape High. "I knew it was only a matter of time," said science teacher Jodie Godwin, who was called by the Department of Health regarding corona cases in her classroom.
Although many may be concerned about the emergence of cases, the administration believes that our systems are effective and efficient. "Our district leadership has done a good job of all the safety protocols, they are consistent amongst all the schools," stated Engelhart. "I was at Dunbar after school was over one day last week for a principal meeting. It seems like their protocols and policies and what they're doing is very, very similar."
About the Contributors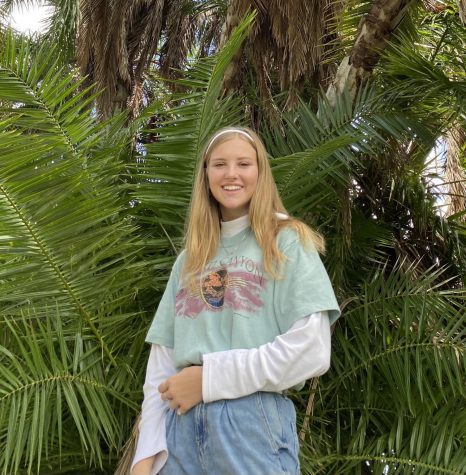 Clare McMillan, Features Editor

"livin like larry"

instagram: @_clare.mcmillan_
Lei Garcia, Visual Staff
✌️ Yo what's up ✌️
📷 I'm the photo geek 📷
👑 The homo EMPEROR 👑
🏳️‍🌈...