King Von dead at 25 after fatal shooting
The internet exploded on the morning of November 6th after hearing the news that Chicago drill rapper Dayvon Daquan Bennett, aka King Von, was shot and pronounced dead at 26. The shooting occurred outside of Monaco Hookah Lounge in Atlanta, after Von's entourage had an altercation with another Georgia native rapper, known as Quando Rondo, and his crew. Surveillance footage from the lounge began to circulate around social media just hours after the incident. 
The footage showed Von and his crew beating up the Georgia rapper before an affiliate from Quando's posse pulled out a firearm and began to fire shots. There were many injured from both groups, including King Von's manager, and there was also a video of Quando Rondo rushing a friend to the hospital. Multiple arrests were made and the suspect identified as 22 year-old Timothy Leeks, aka Lul Timm, who is known to be close to Quando Rondo, and was later charged with murder. 
Many were in shock and mourned the O-block rapper's passing all over the internet, including celebrities, family, fans, and even rival gang members. 
"The people that knew Von and really listened to his music knew that even though he was a rapper he was tied into that life, he was still a talented artist," junior Jayden Franklin said.  
The rap game has lost many young talents recently that had a bright future ahead of them.  Coincidentally, King Von was murdered on November 6, which would have been the 26th birthday of New York rapper Speaker Knockerz, who was found dead in 2014 at just 19 years old. 
"It's crazy to see that rappers are dying so frequently to the point where it's just a vicious cycle, it's sad too, because a lot of them are very young,"  junior Kayla Rodriguez said. 
Many have noticed that a lot of the artists that have passed recently would speak of death in their music, and it unfortunately ends up actually happening. For instance, late last year, when Chicago rapper Juice WRLD passed, fans pointed out one of his verses from his hit "Legends" said "we ain't making it past 21." He ended up passing at 21, and just six days after his 21st birthday. 
A trend that occurs after rappers die is that their album sales go up. Even though King Von reached number one on Apple Music album charts for his latest project, titled "Armed and Dangerous," just days before the shooting, his older album streams were moving up as well, as many who were not familiar with Von's music began to discover his work.
"It always happens, but that's just how it is now I guess. We saw it with Pop Smoke too. 
It just sucks that they're not gonna be able to see it and that they're only getting recognition when they're gone," junior Jonathan Salgado said. 
There have been rumors going around saying that a posthumous King Von album is scheduled to drop at some point. It is also known that Von owned his masters, so his family, including his two kids, will get the royalties of his music.
About the Writer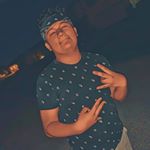 Jeffrey Rodas, Staff Reporter
Jeffrey, sophomore, elite writer, upcoming rapper yak wassup linktr.ee/yxng.chepe