Olivia Rodrigo Gets Under Joshua Bassett's "Skin"
Last January, everyone was raving over High School Musical the Musical The Series. Nina Salazar-Roberts(Olivia Rodrigo) and Richard Bowen(Joshua Bassett) became many peoples favorite tv show couple. Rodrigo and Basset ended up dating in real life, but called it off sometime in 2020.
On December 21st, 2020, Rodrigo released a little teaser on her Instagram of a new song. December 28th, she released a little bit more of it on her social media. Following this, on January 4th, 2021, she announced she was releasing a new single "drivers license," on Friday, January 8th.
"Drivers license" is allegedly referring to Rodrigo's former boyfriend, Basset because he is the one who taught her how to drive. After the two broke up, rumors of him dating Sabrina Carpenter rose. In her song she stated, "you're probably with that blonde girl. Who always makes me doubt. She's so much older than me. She's everything I'm insecure about." Carpenter has blonde hair and is 21 years of age while Rodrigo has brown hair and is only 17 years old. 
Rodrigo continues the song by saying that Basset lied to her when he said that the relationship would last forever and that he, "didn't mean what [he] wrote in that song about [her]." She goes on to express how she misses him and still isn't healed from their separation.
Overall, her song "drivers license," has received an abundance of attention and publicity. Some people relate to it based on their own experiences, others simply feel her pain, and many enjoy it for its musical components.
On January 4th, 2021, the same day that Rodrigo announced her single, Basset also announced that he was releasing a song titled "Lie Lie Lie," on January 14th.
This song is clearly in response to Rodrigo's song. The first lyrics stated, "So they told me all the things that you said. Running all over my name." This line implying that he was well aware of what her song was going to be about. He then goes on to say that he hopes that everything she is saying about him makes her happy and that she can continue lying to everyone including herself, knowing that all is false. 
Bassett came back with a song that very much so resembled and expressed his anger about all the rumors and what Rodrigo was saying about him. 
Bassett's song very much resembles a young Shawn Mendes type of tone and rhythm. One of the songs it most closely relates to is "I Know What You Did Last Summer," sounding a lot like it. All in all the song is every basic sounding not providing a new rhythm.
On January 21st, Carpenter released a teaser singing, "Maybe we could have been friends." With all things laid out and rumors spread about Carpenter and Bassett allegedly  dating, one can infer that Carpenter is referring to Rodrigo in her upcoming song.
At midnight January 22nd, she released a song tilted, "Skin." This song is the second comeback to Rodrigo's "drivers license" followed by Bassett's. 
She states how Rodrigo can say all she wants, but it won't "get under [her] skin." It is evident that this song is referring to Rodrigo. She states, "maybe blonde was the only rhyme," and this is in response to Rodrigo's lyric, "and you're probably with that blonde girl."
To sum, this song truly exemplifies how Bassett and Carpenter are happily together, while Rodrigo can't seem to get over her ex-boyfriend and is taking her anger upon all in the given situation.
About the Contributor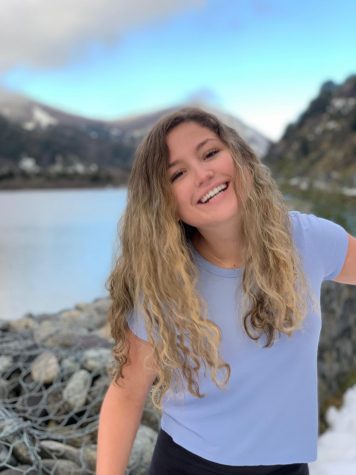 Isadora Wallace, Opinions Editor
Junior, Opinions Editor, IB, Wish for Wish Kids, HOSA, Lacrosse, and I like to overwhelm myself hehe