Chang turns hobby into inspiration
Nicole Chang is a student who is always busy, whether she is doing volunteer work for one of the various clubs she is involved in, helping in the management of around 20 Red Cross Clubs across South Florida, practicing Karate at Kobayashi dojo, or in the place she is most comfortable in, making delicious food for anyone who needs it.
Chang has been cooking since she was in elementary school. At first she cooked small and simple things but quickly she learned to cook complex dishes such as Mousse Cheesecake. Chang's passion for cooking comes from her family and her Chinese heritage. While she wasn't alive to experience it, her grandparents owned a Chinese restaurant that moved in location over time. Chang's father was heavily influenced by this as he cooked dishes from the restaurant's menu for his kids. This is what eventually resulted in Chang's passion for the art of the kitchen. 
"Because it's sort of like a love language, where I just love food and I love sharing food, I love what food means, what it  represents, the culture behind it, the science behind it," Chang said.
Chang has also taken her immense cooking skills to the classroom. During her freshman year Chang took Principles of Food prep as one of her electives. She participated in a cooking competition organized by Chef Derek Stone. Chang compared the competition to the TV show Chopped. Just like in the show Chang and her team were given various ingredients and told to make the best dish they possibly could. Chang and her team won the competition. "With my team I made glazed chicken tenders, with my specialty fries,  I'm telling you I make the best fries, and I made bacon covered brussel sprouts, and we won the competition," Chang said.
Chang's outstanding cuisine is something she also shares with her friends.
"She introduced me to her out-of-this-world cooking skills  around the end of sophomore year, letting me try different foods she would bring packed to school. I would enjoy every last bite I got, knowing I just ate something 20x better than the school lunch being served that day." said Senior Jaden Bradish who has been friends with Chang since her freshman year at Cape High.
During her junior year Chang would frequently invite her friends over to sharePho, a Vietnamese soup.
"The focus of Pho is to share it, so I would invite my friends over and use Pho as a gift for my friends." Chang said.
Since her freshman year at Cape High, Chang has been involved in almost every club in the school. Kids for Wish Kids, Dignity Closet, Student Government, you name it and she was probably involved in it at one point. She is currently the president of Cape High's American Red Cross club and she is involved in the management of around 20 other Red Cross Club's across south Florida. For Chang, volunteer work is more than just a box to check on a college application, it is something she values deeply.
"So like, that's sort of my philanthropy. I just like helping people in the best way I can," Chang said. During her high school journey Chang struggled to find clubs that were the right fit for her. During her freshman year she had a club to attend almost every day. A tradition she still continues. But over time she found clubs where their mission felt more personal to her.
"I value volunteerism and missions, I don't like doing things that don't have an impact on people," Chang said.
She shares her desire to help others with her sister Hailey Chang, who has followed in her footsteps and joined most of the clubs Chang is involved with. "Usually I will join most clubs she's in. Last year I was in Make a Wish, Red Cross, SGA, Math Team, and the AASA," Hailey said.
Chang's bond with her sister goes further than just participating in school clubs. Chang and her sister have been students of Martial Arts at Kobayashi Dojo. Following their brother, Ethan Chang, the sisters joined the dojo together and have been training there ever since. Eventually both of them reached the rank of first degree black belt. The dojo became an essential part of both of their lives, the same as it had been for their brother.
"At the dojo we were known as the Chang Chang sisters," Hailey said.
Both of her Karate instructors have an incredibly positive opinion of her.
Bernard J. Dougherty who has been teaching at Kobayashi dojo for 35 years sees Chang as one his best students.
"And as a captain of our dojo team, she always brings a high level of excellence in all areas that I am fortunate enough to interact with her." Bernard said.
"Nicole has become an idol at the dojo, and now that she is a black belt there's a lot of younger students who look up to her as a role model." said Karate instructor Yuki Y. Dougherty who has been teaching at Kobayashi dojo for the past 20 years.
While Hailey doesn't share the same passion for cooking as her sister they still sometimes work together on meals and desserts. Most of the time Chang enjoys cooking alone. "Well, I'm not one of the cooks in our family so I tend to let Nicole cook since she likes to cook alone," Hailey said.
But Hailey's favorite part of her sister's passion is being there to experience the end result. "I can always hear the oven beep to say it's preheated, the whisk clicking against the metal bowl, and her timer going off to say that the desserts are done baking. That cues me to take a break from homework and peep in the kitchen to see if I could get some," Hailey said.
Due to her busy life Chang treats the kitchen as an escape from her daily frustrations. Chang likes to put all the effort possible in whatever she is doing, which sometimes has the consequence of adding frustration to her life. "I tend to overthink when I'm doing things and it's really frustrating because I put a lot of effort into everything I do. But cooking is the one thing where I don't have to think, I just do," Chang said.
Chang's passion for cooking isn't just for herself, in fact most of the cooking she does is for altruistic reasons. Chang has baked for the various clubs she is a part of and even those she isn't a part of. "I baked for student government, I've baked for Red Cross, I've baked for Make-a-Wish Kids, I baked for pretty much most of the clubs I've been in," Chang said.
But Chang's largest undertaking so far has been the "Cooking Until a Cure" project. Working together with the Community Cooperative Soup Kitchen, Chang has made it her goal to deliver delicious food to them every single week for the past five months.
"For a good five months, every week, I take two days out of my week to bake and cook and then deliver it to them," Chang said. 
She funds her endeavor through a GoFund me campaign, and has raised a total of  $780 dollars so far. With her busy life it has been difficult to manage but no matter the circumstance her altruistic personality has prevented her from giving up and she continues her campaign to this day.
Chang serves as an inspiration for those who know her story. She has managed to use her passion to make an impact on the world. And only time will tell but at this moment we could be seeing the beginning of the tale for the next Gordon Ramsay.
About the Contributor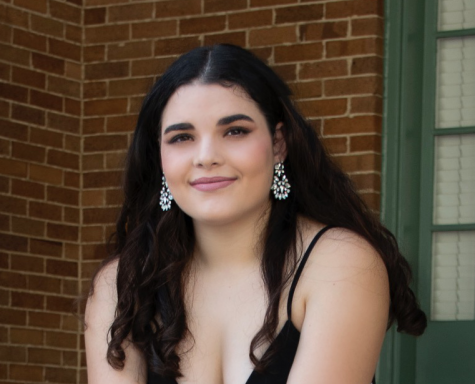 Melanie Pena, Former Editor-in-Chief
Instagram: @melaniepenabombino