IB scores at all time high while AP scores suffer
Students from Cape High have been affected by the Advanced Placement (AP) and International Baccalaureate (IB) testing scores this previous school year. While the IB scores were at an all time high, the AP scores showed steady decline.
The IB exams are a large determinate in an IB's students ability to leave high school with an IB diploma. The students need to obtain at least 24 points overall in order to receive their credit. 
The AP exams are tests that can earn students college credit for specific courses that they take. If a student is able to pass the AP exam with a score of three or higher, they can then earn their credit. 
A significant number of Cape students take on the difficult task of taking these college preparatory tests every year, but this year's scores were drastically different from previous years.
When the AP test results were released this summer, the pass rates were at an all time low. The AP US History exam had 52% of students receive a score of two or lower, meaning that over half of the individuals taking the exam failed. 
The AP English Literature exam received an even lower percentage of failure, with 56% of students getting a two or lower and ultimately failing the exam. 
On the other hand, when Cape High's IB class of 2021 stats were released, 92% of the students received their IB diploma. 
Lucas Rosales, an IB senior at Cape expressed his frustrations with the AP exams this past testing season.
 "Last year's AP exams were interesting to say the least. With all of my classmates having mixed opinions about the exams, I wasn't too confident with my scores. It was very frustrating knowing that less than half of the class passed AP English Literature and AP US History, especially since we studied hard all year long," Rosales said. 
Maximo Zottolo, an IB senior, has taken both the AP English Literature and US History exams and explained his view on why he believed the test scores between IB and AP are changing adversely. 
"I think that when Covid-19 struck, it impacted student learning of IB and AP Material. When it came time for test taking, I think that unlike AP, IB took more into account the challenges their students were facing, and adjusted the test to make it more user-friendly and graded more lenient, in order to sympathize with these students' poor learning conditions at the time," Zottolo stated.
IB exams and AP exams are different for a number of reasons, one of them being the level of knowledge and depth that the subjects go into. 
While both types of courses are rigorous and demand hard work while learning, both tests require different methods of preparation and structure for the exams.
IB and AP Environmental science teacher Lori Shaw helped to better explain this idea. 
          "I think that they are two very different beasts. IB focuses on a more holistic approach to understanding overall values of content than AP does. AP is really more content and subject focused, so in some ways, AP examination is more difficult than the IB examination. However, with that being said, IB provides opportunities for students to express themselves, and better integrate their subjects and analyze content in a more well rounded way," Shaw stated.
Some people can argue that because AP is strictly content-based, IB allows for more out-of-the-box ideas that can still earn students points.  
When students stumble upon questions that they may not know the answer to, this kind of rationalizing can be used as a strategy.
There are also other potential reasons for the testing score fluctuations.
Ashley Koehler, who has been teaching AP and IB Psychology for multiple years, believes IB test scores are rising unlike AP scores due to the way IB adjusted their scoring.
"I believe that IB changed their markbanks, just for this year. I believe they were actually lowered, possibly because they took into account the situation at hand and I don't think AP took it into account. When I look at the AP scores, we actually have more people scoring 'ones', nationally, compared to the previous year. Whereas AP scores are either the same or above as they were the year before. So I definitely think it was a change in the IB mark bands."
About the Contributors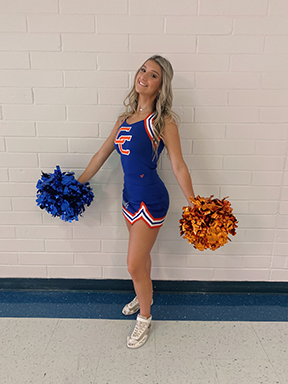 Mia Johnson, Former Features Editor
Instagram: @miaa.johnson7

Mia, IB student, varsity cheerleader, and soccer player <3