Drake delivers with Certified Lover Boy
The OVO Ceo dropped his highly anticipated album "Certified Lover Boy" and he did not disappoint. There was a lot of hype after the Canadian artist announced the release date on social media a few days ahead of the drop and it left many fans excited. 
            One thing to note is that there were no singles used to promote the album. The project contained 21 fresh new songs from top to bottom with lots of big name features. 
There was absolutely no doubt that this album was going to be at the top of all the charts 
knowing that Drake is now a global icon and is not just recognized as a rapper, but as an artist. He almost doubled Kanye West's DONDA first week sales with a whopping 613,000 units sold. 
"A combination of toxic masculinity and acceptance of truth which is inevitably 
heartbreaking," is what Drake describes the album. 
Drizzy put some of the biggest names in the industry on the album including 
Future,Young Thug,Lil Durk,Lil Baby and many more. He even got the iconic Jay-Z on the track "Love All." 
He kicks off CLB with "Champagne Poetry" where he flows with an R&B sample chorus 
and then adds a beat switch where he talks about the level where he is at in the music game. It was a perfect intro for the album. 
The first feature comes from the Atlanta native Lil Baby on "Girls want Girls" which was 
one of the top tracks of the album with a ridiculously catchy hook. It was followed by "In The Bible" featuring R&B singer GIVEON and Chicago's own Lil Durk. Both of these tracks give off similar energy, it is not quite a club banger but a late night drive vibe. 
Fans can't argue which was the best song without mentioning "Fair Trade" featuring 
Travis Scott. This is where that "toxic masculinity and acceptance of truth" that Drake mentioned is shown as well as in "Way 2 Sexy" with Future and Young Thug. 
"Knife Talk" with 21 Savage and Project Pat is an outlier. It is a hard track and the energy 
in this one is very different from the rest of the tracks. It has a very grimey beat and the 21 Savage feature fits the song well.  
Unfortunately, this album was definitely not perfect. There were some songs that made the project seem a little too long. 
            Overall CLB is something that Drake is used to doing, there was nothing out of this world but the numbers speak for itself. The fans clearly can't get enough of it and like it or not he generates noise all over the world.
About the Contributor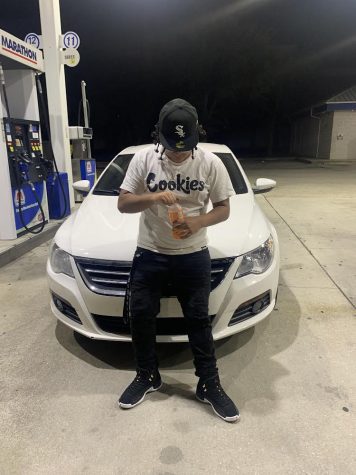 Jeffrey Rodas, Former Staff Writer
Jeffrey, elite writer, upcoming rapper yak wassup linktr.ee/yxng.chepe

Chepe The Gurila🦍

Too real for tik tok

cashapp: $ChepeRodas