Cape High's Key Club plants trees in the community
Cape High's Key Club did a tree planting Saturday September 25th on the Southeast corner of Country Club Blvd and Veterans Parkway. This was a community service project that allowed the Key Club students to help their community and the environment around them.
            According to Elizabeth Kominar who is the club sponsor for Cape High's Key Club they planted more than 200 slash pines and everything for this tree planting was funded and provided to them by the Future Forestry Company. "Cape Coral's Environmental Club was there as well. Plus there were other schools there too, so we had other Key Clubs from around the Cape Coral area," said Kominar
Freshman Sophia Dupyron commented on the hard work students put into the event. "It's actually kind of difficult because we have to, you know, take the shovels, dig the hole and then shake the plant out," she explained. "But after a while, it's easier; because it's my second time I'm more used to it."
Along with the hard work that goes into it, students have loved the tree plantings due to the ecological importance. Key Club's vice president Sydney Farrar stated, "I think it's good to get involved with the environment and kind of make everything more green, because lately there's been a lot of buildings and infrastructure going up."  
 Freshman Sarah Soloman, a new member to the club, agreed and said, "I did enjoy it and also got to work with other people, so it was a lot more interesting and we collaborated."
The tree plantings have been a great way for Cape High to play their part in  helping the environment. "It's more than important, It helps them in so many ways. I mean, we were worried about CO2, which is one of our greenhouse gases. Trees suck up carbon dioxide and so they're a nice wrapper over that kind of stuff," said Kominar
 Students agree with that sentiment as Dupyron stated, "I think it's really important for the environment because especially now it is like, more urbanization going on and more trees are being cut off. I think it's important to maintain our roots with our places here and make everything look nicer. And of course it's good for the environment."
Tree plantings also have had many student benefits. Desiree Gowie explained, "It's really enjoyable and it's like a fun way to get your volunteer hours, and you know it will benefit your community." 
Along with getting volunteer hours and benefiting the community, tree plantings have also allowed many students to have fun and  make friends. 
"It's good to interact with other key clubbers and kinda just be out in nature, especially this time of year. It's really nice outside," stated Farrar. "I love it, I think it's a fun activity, it's easy. And you usually work with a partner, so it's fun to just work with those around you."
About the Contributor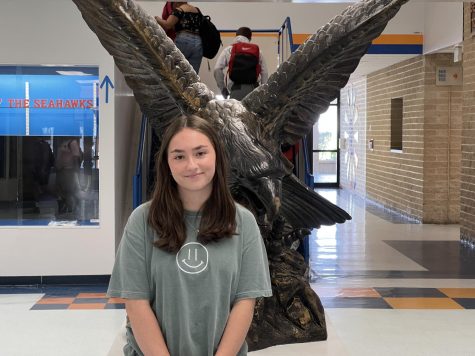 Rebecca Collins, Staff Writer
I'm a junior and I love reading, writing, and listening to Taylor Swift.