Pumpkin spice keeps fall authenticity in Florida
Fall in Florida is not like your typical fall season. The leaves are all the same, the weather doesn't change drastically, and we don't pull out our fall wardrobe. However, there is one thing we can still enjoy: pumpkin spice.
Pumpkin spice is one thing that can always put a person in a cozy, autumn mood. It is something that can be enjoyed in many different aspects including candles and scents, deserts, and foods. 
There are many locations around Cape Coral and Fort Myers that offer the best fall items that everyone can enjoy. 
Starting off strong, and a personal favorite, there is the pumpkin iced coffee from Dunkin Donuts. This may be an unpopular opinion but Dunkin pumpkin coffee takes the win over Starbucks anyday. While Starbucks has a pumpkin latte, Dunkin just encaptures "fall in a cup". 
When it comes to scents and candles, Bath and Body Works is the place to go. They have any fall scent you could ever think of. However, not only do they sell candles, but shower gels, lotions, hand sanitizer, room spray, car air fresheners, body sprays. They are always having deals in their store so there is a good chance for a discount. While they're products smell amazing, they are on the more expensive side,
However, another place to go for a fall scent without spending all of your fall budget is Target. They have all of the fall products you're looking for, just on the cheaper side. For example, a full size candle at Bath and Body Works is $25, yet a full size candle at Target is $10. 
If planning to go on a fall date, then head over to a cute pumpkin patch. Head on over to Farmer Mike's U-Pick where there is a pumpkin patch open for the season. Farmer Mike's U-Pick also has an apple orchard where you can pick fresh apples and add to the autumn season. 
Another way to get your pumpkin spice fix if not wanting a dessert, is through pumpkin savory foods. This may sound odd, yet it may be the best fall experience. In fact, pumpkin sage ravioli may be the best thing about the fall season. The Fresh Market is an organic grocery store that has the best fall foods and pre-made meals. Speaking from experience, these are the best ravioli in the game. 
Local restaurants will also most likely have seasonal pumpkin items that should be enjoyed while they're available. Even places like Target and Publix have great seasonal items that cant be found anywhere else. For example, Publix has the best pumpkin spice pretzels that are addicting. There are many hidden pumpkin gems in these stores that will bring out the autumn in our Floridian fall. 
Pumpkin spice season is a time to cherish as it only comes around once a year. It is the key to the success of fall in Florida and without it, it would just feel like summer. This is the time to go out, and find everything you can in pumpkin spice before it's all gone. 
About the Contributor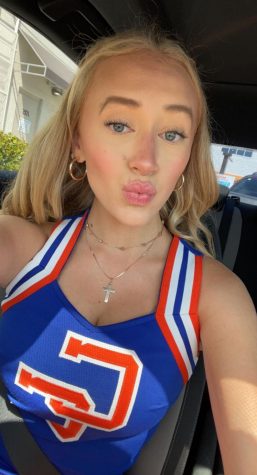 Katelyn Bly, Former Staff Writer


Along with being on newspaper staff, I love Cheer and Soccer!