Young Thug returns to the scene with "Punk"
Atlanta rapper and singer Young Thug dropped his first solo album since 2019, Punk, and he did not disappoint the fans.  
Thugger, as some fans call him, delivered a perfect balance of tracks with smooth acoustic sounds, but also threw in some of that Atlanta trap sound that he became famous for. He showed both sides of himself as an artist, like in the album cover, where it shows him rolling dice on one side and strumming a guitar on the other.
Punk was packed with features, from some of the biggest names in the game, like J.Cole, Drake, Travis Scott and Post Malone, to others who do not have as much buzz, like Lil Double O and T-Shyne. 
He starts off the album with a peaceful hippy vibe with "Die Slow," featuring Strick, where he reminisces of the struggles him and his people went through. He follows it up with "Stressed," where we hear a melodic hook from Thug and a hard verse from J.Cole. 
One of the artists that Thugger has a great chemistry with is Gunna, who has three features on the album. It is clear that Gunna was definitely influenced by Thug, since they have a similar style and sound. They both always compliment each other's sound, whether it's trap, like in their infamous hit "Hot", or more chill vibes like the three tracks on this album, "Recognize Real," "Insure My Wrist," and "Love You More."  
Arguably the best track off the album was "Peepin Out The Window" with Future and BSlime. Instead of turning up music that Future is known for, we hear him spitting about real life instead.
Thug even threw in some rage for the album on "Rich," featuring Juice WRLD, with an aggressive beat and some rough bass. 
One of the weaker songs off the album was definitely "Icy Hot," featuring Doja Cat. It was a strange mix with weird vocals in the hook that makes the typical listener just want to skip the song.  
Thugger wraps up the album in excellent fashion with "Day Before" featuring Mac Miller. It was an interesting song, with no beat, but rather a nice acoustic guitar playing in the background. It is always good to hear a verse from the late Mac Miller too.  
Young Thug is considered one of the most influential rappers of this generation of the genre along with others like Future and Chief Keef. Punk shows that Thug is growing as an artist and is experimenting more, since he has already made a mark in the Atlanta trap scene. The album is worth listening to those who are familiar with Thugger's music, whether it's for trap or R&B.
About the Contributor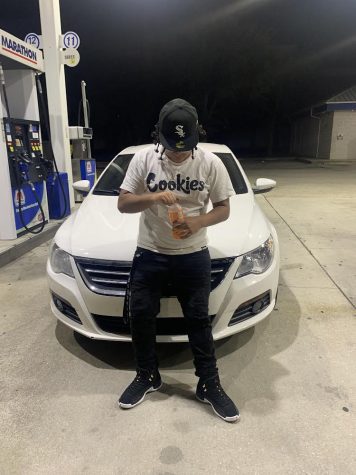 Jeffrey Rodas, Former Staff Writer
Jeffrey, elite writer, upcoming rapper yak wassup linktr.ee/yxng.chepe

Chepe The Gurila🦍

Too real for tik tok

cashapp: $ChepeRodas