Cape High will host a movie night
Shrek: it's a movie, it's a Broadway musical, and since its initial release, it has broken the internet multiple times. However, this time, Shrek is coming to Cape Coral High School. 
The Class of 2025's Student Government Association is hosting a movie night at Cape High. It will take place February 11th from 6 PM to 8:30 PM and the movie playing will be Shrek. 
Due to the district's prohibition of large indoor gatherings, the movie will take place on the football field "under the stars." For the time being, only Cape High students will be able to attend. 
In addition, students are encouraged to bring lawn chairs and blankets. There will be popcorn, candy, soda, water, and other refreshments available to purchase during the movie.
 "We actually have a large projector, it's a blow-up projector," said freshman Michelina Mazzella, SGA Class of 2025 Sponsor. "It's not quite like a jumbotron because it's inflatable, but it's a big screen, and actually, someone's donated it to us for the time." 
Freshman Dakota Downey is planning to attend Movie Night. "I think it will be a fun experience and I want to hang out with my friends," said Downey. 
 Freshman Haruna Mescallado agreed, and said "It seemed cool! I like Shrek and I really love the idea of being outside in the night while watching a movie." 
On the other hand, some students are considering whether or not to attend. 
"If the turnout event is pretty good, I would love to be one of those numbers," said Junior Rylie Sims, "and really just go out there and have fun and show us what the Seahawks are all about."
Tickets are being sold through the online platform Gofan.co and will be sold at the entrance. They are worth $5 ahead of time and $7 if bought the day of the event. 
As for the process of selecting the movie, a survey was sent to all of the student's google classrooms. "SGA selected about five or six different movies, it was five movies that we shared with all of the kids at Cape Coral High and they could vote on google forms," said Mazzella
 Among the choices were Jumanji, Annie, The Parent Trap, Goonies, and Shrek. Ultimately the majority of the survey results were for Shrek. 
Throughout Cape High, opinions are mixed on whether or not Shrek was the ideal movie to play.  
"I think something newer that a lot of people haven't seen [would have been a good alternative], " said Sophomore, Savara Hitchcock. "Shrek is old news. I've seen that movie a million times."
On the contrary, Mecallado said, "The choices were alright! None of them particularly stood out to me other than Shrek, for meme-y reasons."
The estimate of how many students will attend movie night are varied. 
"I don't know, at least 100 [students]," said Downey.  
Hitchcock disagreed, saying, "The school is pretty big, so probably like 50 [students], maybe." 
However the Class of 2025 have their sights set higher and are expecting well over 200 students to attend movie night this Friday. 
Either way, all Cape High students are invited to come out. Mazzella said, "Come out and support Cape Coral High School, this money is gonna benefit all of our kids."
Donate to The Seahawk's Eye
Your donation will support the student journalists of Cape Coral High School. Your contribution will allow us to purchase equipment and cover our annual website hosting costs.
About the Contributor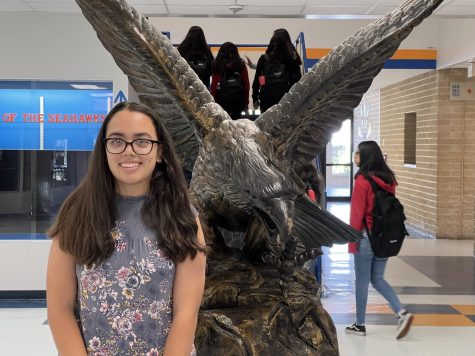 Sophia Dupeyron, News Editor
A book-obsessed writer with oatmeal raisin cookie humor.