The best places in Cape Coral to get a gift or go on a date
Valentine's day may be a giant holiday of wasting money for unrequited love, but those who have a loved one may find it a bit tricky to plan dates and presents on that day.
Sunsets do exist as a part of our everyday lives, but a Cape Coral sunset at the beach really is a charm. Place a blanket on the beach, crack open a cooler, and relax as the sun sets over the view of the water.
In addition to sunsets, dinner prior to the beach makes the night one to remember. There are far too many restaurants to name, but the rule of thumb should be if it is a unique, one of a kind restaurant, it'll be perfect. 
Preferences do matter for dinner on the 14th, as not everyone has prepared their wallets or their taste buds for some meals. Take into consideration what the guest would like and choose around that. It would not hurt to make reservations, as Valentine's day is a packed day for any restaurant. 
Buying gifts may be limited to shopping at WalMart, Amazon, and the Publix Deli line, but Cape Coral does have some amazing stores. A gift as small as a ring can be found at any local jewelry store, and Cape has plenty of chocolate shops. 
Valentine's day also usually includes flowers. Oftentimes, shoppers flock to Walmart or Publix for a dozen roses at a moderate price, however, the smart shopper knows that florists have the greatest selection of flowers. A dozen roses may scream "Happy Valentine's Day," but a florist can curate the greatest bouquet of flowers for anyone under the sun. 
In addition to florists, roadside flower stands are also a great option. Selling locally grown flowers, these florists-on-wheels will be glad to help make Valentine's Day even better.
Chocolates and candies are delicious sweets to have on any day of the year, but during the Valentine's Day season, adorable little candies like sweethearts and boxes of chocolates are available for sell. 
Forrest Gump may have said "Life is like a box of chocolates, you never know what you're gonna get, "but buy a box of chocolates with a picture on the back, as you may want to know which are the caramels and which are almond or peach flavored. 
Hallmark thrives off of holidays, weddings, and death. Valentine's Day is no exception. While a card that says "Happy Valentines Day," with a ten dollar bill in the middle is nice, cards that show much more dedication can be found or made.
A wonderful itinerary for Valentine's Day can be planned. From coffee at a local coffee shop that doesn't rhyme with "crossbucks," to dinner and a movie, an entire day can be planned by anyone with little creativity.
Now all the ideas above may be not the best, as everyone is different, but everyone has to eat. From Albanian food to Uruguayan food, Cape Coral has it all. 
A wonderful Valentine's Day doesn't always have to have food, dates, and gifts, but it's the way one spends it, whether with a date, or with a bowl of ice cream binge-watching friends.
About the Contributor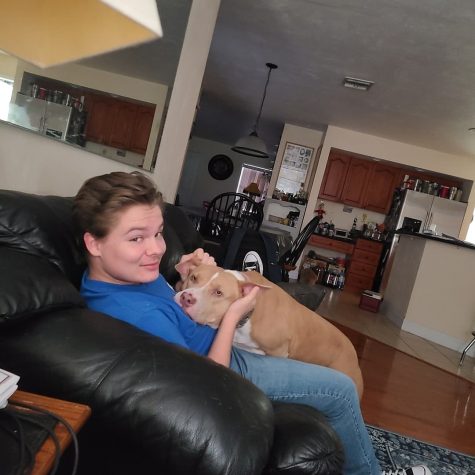 William Pavela, Former Business Manager
I'm William Pavela, and I sell ads