Tall Girl 2 is somehow worse than the first
She's tall and popular, but now has anxiety. This is an eight-word summary of what is Tall Girl 2, a movie certainly no one asked for, especially considering the backslash the first Tall Girl movie received. 
Tall Girl 2 takes off where the previous film ended, starring Jodi Kreyman, a "tall" girl, and her newfound popularity. However, all is not perfect as doubts begin to plague Jodi, putting her relationships and lead role in the school musical on the line. 
The film opens with Kreyman and her boyfriend, Jack Dunkleman quickly discussing the events of the previous movie in a conversation that lasts two minutes, sloppily providing a summary of what occurred in the prior installment. 
Director, Emily Ting, kept the characters the same with Jodi Kreyman, Harper Kreyman, Jack Dunkleman, Stig Mohlin, and Fareeda Marks. There were however, new characters introduced, most notably Tommy Torres, as Kreyman's new love interest and  Stella Mohlin as Stig's older sister. 
While the film attempts to illustrate the anxiety that thousands of teenagers face globally, it ultimately fails in creating a relatable storyline. Kreyman's anxiety is developed by her hearing a scattered voice in her head that leads to self-doubt. Michelle's acting is believable when she begins having panic attacks, but the swift way in which her anxiety is "resolved" is not believable, making viewers skeptical. 
Throughout the movie, side characters steal the show, specifically Stig Mohlin. In the first film, Mohlin served as a type of secondary antagonist. Yet, in Tall Girl 2, Mohlin managed to redeem himself, primarily through his relationship with Marks, who plays Kreyman's best friend. Mohlin's change is evident when he supports Marks' decision to become a designer and performs "Take A Chance on Me," alongside Marks, warming everyone's heart. 
Tall Girl was heavily criticized by those who argue that Kreyman refuses to acknowledge her privilege as a white, healthy, pretty, and wealthy young woman. Instead, she spends most of the first movie perceiving her height as the largest problem that could ever exist, while being ignorant of worse situations that others could be facing.  
Due to this, Tall Girl 2 addresses the complaints in the first ten minutes of the movie, blatantly trying to quell the last movie's critics. Either way, they fail to properly handle it, with Kreyman saying, "Well I'm not saying being tall is worse than those things…" and wrapping it up with a few more succinct sentences that lack earnestness. 
Maya Taylor, the film's choreographer, showed her skills when Kreyman and Tores closed the scene for "Bye Bye Birdie," the musical the school was playing. The mixture of the melodious song, "A Lot of Livin' to Do," supple movement, and camera panoramas allowed for a satisfying, upbeat scene. 
Still, Tall Girl 2 did not offer anything new in regards to the plot. Similar to other Netflix sequels, most notably The Kissing Booth 2 and To All the Boys: P.S. I Still Love You, it introduces a new male character in an attempt to create a rift for the leading couple. Unsurprisingly, Kreyman and Dunkleman find each other again by the end of the film. This along with the "mean girl turned nice girl" trope and the "pointless breakup" makes for a cliche-filled movie. 
Ultimately the lack of originality and necessity makes Tall Girl 2 bland and unnecessary, but it may provide a decent ending for fans of the franchise.
Donate to The Seahawk's Eye
Your donation will support the student journalists of Cape Coral High School. Your contribution will allow us to purchase equipment and cover our annual website hosting costs.
About the Contributor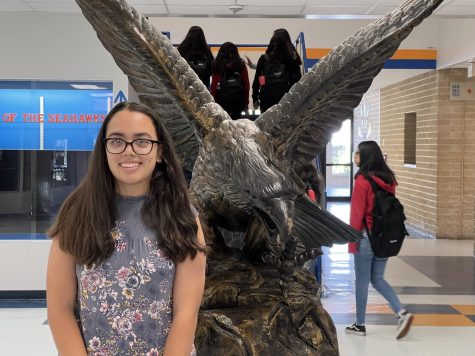 Sophia Dupeyron, News Editor
A book-obsessed writer with oatmeal raisin cookie humor.