Moon Knight: Marvel's Unraveling Story
 The new Marvel series that is featured on Disney Plus makes fans sit on the edge of their seats. The mysterious Moon Knight, played by Oscar Isaac, makes the audience's eyes glued to the screen for the entirety of each episode.
            Produced by Peter Cameron while starring Ethan Hawke and F. Murray Abraham, the series was something to expect from Marvel. Adventurous and action packed, the production has potential to be a global sensation.
            This collection currently has 1 season and three episodes, but new episodes are being released every Wednesday. Each episode brings a tremendous amount of thrill and excitement as we follow Steven and Marc through their journey whilst sharing a body.
            Moon Knight isn't related with any other Marvel movie, making it pleasurable for everyone to watch even if they aren't raving fans. Just because it isn't interlaced with Marvel and their other productions doesn't mean it is any less interesting.
            Episode 1 was jam packed with information and built a very solid knowledge base for the upcoming episodes. Though it gives most people a headache, it makes some points clear right off the bat. It clarifies Steven's struggle with Marc and gives important insight into both of their very different lives.
            As the show progresses, switching between Marc and Steven becomes a greater struggle and puts both of their safety on the line numerous times. In a way, the audience becomes frustrated with Marc's interferences and the trouble that has entered Steven's life.
            The plot of the series as a whole was amazing, making it suspenseful and fun to watch. The watcher attempts to unravel Marc's lengthy past with Egyptian god Khonshu that is on a totally opposite spectrum from gift shop worker Steven.Enemies are rising left and right, but the personality changes don't make it any easier.
            Additionally, there was a great amount of suspenseful music in all three episodes which intensified the scenes a bunch. Some of the featured songs include "Every Grain of Sand" by Bob Dylan, "A Man Without Love" by Engelbert Humperdinck, and "Wake Me Up Before You Go-Go" by Wham!. They were great additions to the episodes and really brought together the entire feeling of suspense.
            Due to the watcher's lack of knowledge, there is an extra layer of mystery and Marvel does a great job in making the audience aware of what is going on, whilst leaving them wondering at the same time.
            In its entirety, Moon K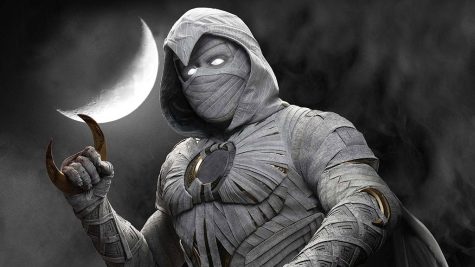 night is a delightful addition to Marvel's collection and these few episodes were pleasant to watch. As the series progresses, the plot is expected to intensify as per usual with Marvel productions.