Better Call Saul: An Excellent TV Drama
When Breaking Bad creators Peter Gould and Vince Gilligan announced they were going to make a spinoff show to one of the greatest TV dramas of all time that focused on a comedic side character, they were met by skepticism from audiences.
Fans doubted that a spinoff could ever reach the level of quality that Breaking Bad had reached. Yet, as soon as Better Call Saul hit screens, it was clear that it was going to be another huge hit.
After Monday's series finale, it is clear that Better Call Saul is one of the greatest TV dramas of all time. A methodical show that doesn't just match its predecessor, but also surpasses it in many ways.
In Better Call Saul, we follow the story of Jimmy Mcgill, a small-time lawyer attempting to get by. Over the course of the story we see Mcgill shift into the 'Criminal' lawyer, "Saul Goodman." Short glimpses throughout the TV drama also show his story after the events of Breaking Bad.
Through six seasons we are glued to the screen as we see the moral degradation of a man, as his true self slowly begins to fade away through continued betrayals and life circumstances.
The story also has another side as we get a closer look into the criminal underworld of the Breaking Bad universe. Characters such as Jonathan Banks' Mike Ehrmantraut and Giancarlo Esposito's Gustavo Fring return as we get more context to the world in which Walter White would later go into.
While at first this might make the show feel disjointed, eventually the moments in which the two worlds collide more than just justify this narrative structure. With all of these moments building up to it, the final one leaves you in shock and awe.
While every episode is excellent, some episodes stand out as the best in the series, a few of the best being "Chicanery" in season three, as well as "Plan and Execution" and "Point and Shoot" in season six. While there are a few standout episodes, every episode feels important since each one either develops the characters or moves the story forward. 
Every character has a journey and not a single one is uninteresting or boring; however, the heart of the show still lies within its central characters. Bob Odenkirk does an excellent job as Jimmy/Saul, as his performance brings heart and personality to a character whose original purpose was to provide comic relief. 
Odenkirk's acting is further strengthened by the performance of Rhea Seahorn, the show's secondary main character, Kim Wexler, and the performance of every actor in the show. With highlights being Tony Dalton as the charming and horrifying Lalo Salamanca, Michael Mckean as Chuck Mcgill and Patrick Fabian as Howard Hamlin. Every actor does an exceptional job in their role.
The show has an extensive cast but no character is wasted or forgotten. By the final episode, every set up established along the six season run is paid off in what I consider to be one of the best finales in TV history.
This show is more than worth your time, the show is slower than Breaking Bad, less focused on action and more on character drama but that is to its benefit. It's an experience that will leave you hooked all the way to the end and satisfied after it's over. 
About the Contributor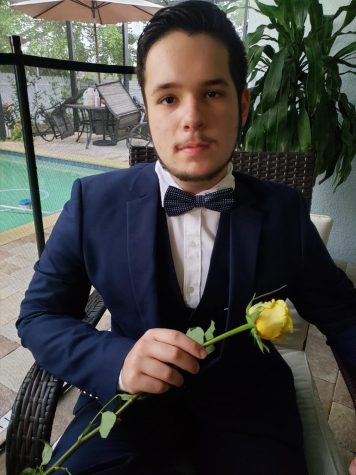 Humberto Alejandro Carralero, Former Web Editor



Originally from Ecuador, Humberto Carralero enjoys creative writing, videogames. He's a train enthusiast. He wants to be a lawyer.