College Board begins digital SAT trials
For many upperclassmen, the SAT marks yet another obstacle in the college admission process. Millions of students across the nation tirelessly study in hopes of reaching their target score. However, in January 2022, College Board announced that they were planning to go fully digital with the SAT, along with shortening the time to two hours. 
Many students have been contemplating how this change is affecting the admissions game. "The possibility to take an online SAT will change the way people think about test taking in college," said Senior Zachary Clayton.
By spring of 2024, College Board expects the SAT to go fully digital worldwide, despite the challenges that may occur. With change comes trials, and in this case high school students have been receiving emails from the College Board informing them of the opportunity to take the digital SAT before it goes worldwide.  
"We're writing to remind you that you're eligible to take the digital SAT on Saturday, September 24, 2022, for free as part of an upcoming research study to support the transition to a digital SAT," stated College Board in the email sent out to students. 
Clayton received an email, however, he believed the message to be misleading. "It [the email] was not well communicated, I thought it was a scam," said Clayton. 
In addition, schools throughout Lee County and beyond have had the opportunity to enter their school in the test trials. "The SAT College Board reached out to all the testing coordinators in the nation and asked us if we were willing to do those two test dates," explained SAT coordinator Aaron Smoly.
Ultimately, Smoly chose to decline the invitation to participate in the trial. "We had the option to host the digital SAT here at Cape Coral High School for two test sessions, but we chose not to do it. I chose not to do it because whenever you involve computers and testing, everything goes wrong."
 Students are being asked to register by August 21, 2022 and if accepted into the test trial, they have to report to North Fort Myers on Saturday, September 24th. The SAT scores that students receive during the trial will also qualify as a real SAT score that can be reported to colleges. Students will also be receiving compensation for their participation. 
"When registering for the digital SAT, you'll choose between two incentive options: A USD $50 gift card or a refund of your August 27th or October 1st  SAT Weekend fee," stated College Board.
Although many are glad to see the digital SAT, there is slight controversy over whether or not technology is the best way to take standardized testing. "A lot of things can go wrong if you do it online, it can be corrupted, you can lose all of your data, and you might just end up re-taking it," said sophomore Sabrina Dong.
"It's definitely ironic that I teach a high level of technology and I'm so set against computers in the testing room," said Smoly. "However, knowing computers as well as I do, I also know that they're not the answer to everything. To err is human, to really mess something up, you need a computer."
Donate to The Seahawk's Eye
Your donation will support the student journalists of Cape Coral High School. Your contribution will allow us to purchase equipment and cover our annual website hosting costs.
About the Contributor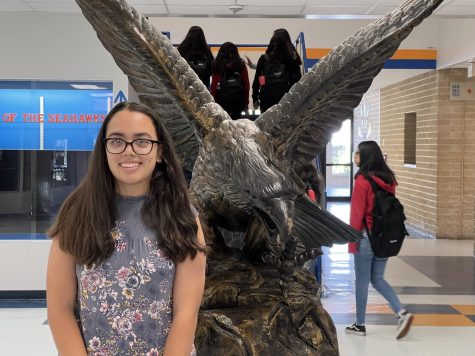 Sophia Dupeyron, News Editor
A book-obsessed writer with oatmeal raisin cookie humor.