Cape undergoes new changes and policies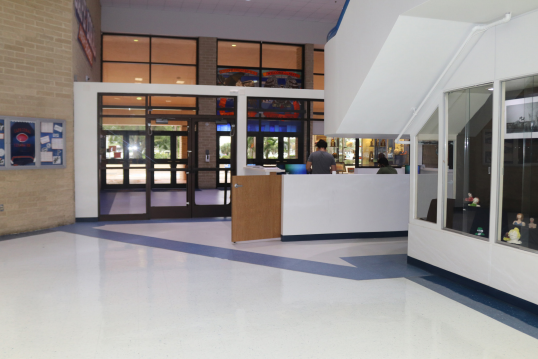 Cell Phone Policy:
A new policy has been placed in Cape Coral High School, requiring students to have their cell phones in their bags that will be placed in a chosen location in each classroom.
"I was a little bit reluctant because I like leaving it up to the teachers to be able to run their classrooms how they see fit and what makes sense for their class," Principal Christian Engelhart said. Teachers do have some flexibility as far as the location of the students' bags whether it's by the students' seat or in a certain area in the room.
"It'll keep the students more focused on what's going on in the classroom," said business teacher Anthony Foster, optimistic about the new rule during his first year of teaching. An other point several students brought up was using their phones for important matters, such as for academics or during an emergency.
"I think that it could help students focus a bit more, however I am a bit upset because sometimes I need to contact people for serious matters,'' senior Hailey Chang said. "I feel that it is the student's responsibility to know when it is okay or not okay to go on their phones," Chang added. With what has been observed by teachers, some students simply do not understand this responsibility, disrespecting their teachers and creating a felt necessity for administration to make this policy.
The cell phone rule has two policies in itself, first with the phone having to be in the bag, and additionally the teachers choosing a designated location for the bags to be. Since, according to Engelhart, this location can include being right next to a student's desk, this would allow students to easily reach for their phone.
However, Chang thinks it would make a more efficient classroom setting. "It would be time consuming to walk around the classroom to my bag, grab the needed material, then walk back to my seat," Chang said. With a building full of almost 2000 teenagers, it's almost impossible to create a distraction free environment.
Headphones and Earbuds Policy:
One of the newest changes this year is the headphone and earbuds policy. While walking in the hallways, students must have one earbud out of their ear at all times. "It's a safety thing to make sure that if we need to be able to communicate, we will be able to communicate with kids," stated Principal Christian Engelhart.
New Kiosk:
Over the summer, some changes have been made to Cape Coral High School, such as the demolition and reconstruction of the front kiosk. What used to be a small, blue, and claustrophobic desk has now been replaced with a modern, open, "friendly," and good security measure.
A double locking system has been put in place. Felipe Ortega stated, "I will have full disclosure of who to let into the main part of the building." While there were some setbacks in construction, the kiosk is set to be finished by the first day of school. As of right now, students will not be able to congregate inside the locked part of the building in the morning before school starts.
No More One Way Hallways:
With the removal of COVID procedures in classrooms and schools this year, Cape High administration has removed the one way hallways that have been a part of class changing for the past two years. Now, besides for the center stairways by the media center, students are able to walk both ways in halls, making it easier to get from class to class. The center stairwells will remain one up and one down. The decision was made to remove the one way hallways as both students and administration were noticing the "bottlenecks," as stated by Principal Christian Engelhart, that were making it very challenging for all students to arrive to class on time.
Student Population Growing:
Starting the new school year, Cape Coral High school will have a student population of 1,956. At the beginning of last school year there were approximately 1,850 students. This being said, students should expect new norms in school to accommodate so many more students. A big concern with many students, even from last year, was traffic in the hallways, specifically the jams at staircases. While the two staircases in the middle of the school will still be only up or down due to the limited space on them, the rest of the school will be relieved from the one-way hallway policy. "It's not possible for kids to walk this route, and a lot of it was because of the one way hallways," Principle Christian Engelhart said.
The school also plans to use any space necessary to hold more stu- dents. Many classrooms last year held close to 40 students. "My class numbers are still about the same," teacher Kara Smith said. With the new seven period schedule, class numbers widely vary due to elective popularity and class requirements. More classes and classrooms will require more teachers, and we fortunately have multiple new educators this year in multiple departments.
Gabriella Marinelli will be starting off her first year as both an English teacher upstairs and ceramics teacher downstairs, filling in Mrs. Davis' old room.
School Grade is a B:
For the past six years Cape High has received the letter grade B. This year Principal Christian Engelhart would like to change that. "The school grading system shifted a few years back and we are kinda recalibrating the way it works, but we are third highest in the district as far as overall points,'' stated Engelhart. The past few years the focus has not been able to be 100% on student learning due to all the COVID protocols. "My theme going into the year is hitting the reset button and focusing back on what is important, which is the students," said Engelhart.
IB Elective:
With the School Board's decision to switch all of Lee County high schools to a seven period day, the Cape Coral High IB program had to come up with a solution for IB kids not having an elective. Junior and Senior IB Students have seven required classes to take and would be unable to take an elective such as band, creative writing, or gym.
To allow these students to keep this elective, Cape High allowed for them to have one class on a block schedule: one day they would have their elective and the other they would have their Theory of Knowledge (TOK) course. These courses would need to be aligned and TOK was placed in periods One, Five, and Seven. All courses would need to be aligned so if an elective a student wanted was not in these periods, they would be unable to take it. Some electives were placed in these specific periods so that IB kids would be able to take them, for example Pharmacy Tech, "Because of pharmacy tech-because of the clinical work, so we're able to balance that with the traditional kids and the IB kids," said Assistant Principal Troy Beall. While most students were able to get the electives they wanted; Pharmacy, AP Calculus, Jazz Band; some students still missed out on these electives when their courses overlapped.
Donate to The Seahawk's Eye
Your donation will support the student journalists of Cape Coral High School. Your contribution will allow us to purchase equipment and cover our annual website hosting costs.