Taylor Swift's Midnights makes listeners feel like they're "Spinning like a girl in a brand new dress"
An initially controversial album by fans, Taylor Swift's newest release, Midnights, has broken records like it was child's play. The newly most streamed album on Spotify is one of Swift's greatest productions to date, and her talent shines through each and every song. 
A lover of Easter eggs and surprises for her fans, Swift released both Midnights and Midnights (3am Edition) at midnight and three A.M. on October 21st. 
Midnights consists of thirteen tracks, each telling the story of one of Swift's sleepless nights, with Midnights (3am Edition) consisting of the original thirteen tracks, plus an additional seven more. 
A drastic change in style and storytelling from her last two releases: folklore and evermore, Midnights explores some of the most raw emotions that makes humans human. Swift completely exposes herself in these songs, each one more powerful than the next. 
With folklore and evermore as Swift's indie folk's era, Midnights takes the listener back to the ages of albums Lover, Reputation, and 1989. A combination of pop, alternative, and electronica, Midnights is something completely new but also recognizable as Swift's work. 
Many of the songs have similar instrumentation as some of her older works, such as "Snow On the Beach Ft. Lana Del Ray" and "gold rush," being referred to by some Swifties as "sister songs."
The tracks on this album are unbelievable in regards to the sheer amount of care that went into writing them. "Mastermind," by far one of the best songs on the album, has some of the most relatable and understanding lyrics ever written. Similarly, "Would've, Could've, Should've," a track on the three A.M. edition is heartbreaking. Swift took all of the pain she's experienced throughout her life and encapsulated it in this song. 
This album is like nothing that she has ever written before. If you think that "All Too Well (Taylor's Version) (10 Minute Version)" is the saddest song ever written, think again. "Would've, Could've, Should've" takes Swift's songwriting to another level. 
As a whole, this album crafts something absolutely stunning. Its broken records speaks wonders about the quality of the songs, and about the production of the album as a whole. 
On the other spectrum of the album, "Karma," is such a fun song. Its upbeat undertones and catchy lyrics easily place it in the top ten songs on the album. When listening to it, it almost feels like someone's finally getting the "Karma" they deserve. The song makes you feel like you're the baddest person around and that nothing can stop you from getting the future you want. 
Everything about Midnights works together. There isn't a song that feels like it's out of place when listening to it, even though not all of the songs have the same undertones or instrumentals. "Bejeweled" and "Karma" sound completely different from "You're On Your Own, Kid" and "Anti-Hero," and their meanings are opposite, but they work. 
There's no other way to describe this album as anything other than iconic. It is perhaps her greatest album technically, and one of the top five in terms of songwriting and energy. Swift knew what she was doing when she created this album, and while it wasn't perceived well at first, it certainly deserves all the high praise it is earning now. 
Somehow, Swift created an album composed of opposites and made it fit perfectly into a puzzle that only she knew how to make. 
About the Contributor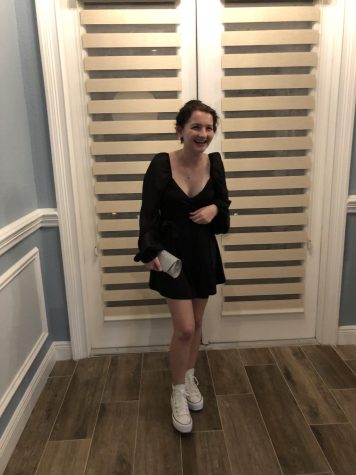 AJ Cudnik, Copy Editor
i like to keep myself busy