Hurricane Ian's effect on Southwest Florida is long from finished
One of the worst storms to have ever hit the coasts of the United States, Hurricane Ian has left thousands of Floridians' lives changed forever. 
Some of Cape Coral High School's very own seahawks are among those currently displaced. 
Erica Pease, AP Language and Composition and English Honors teacher, is one of the many who has been impacted by Hurricane Ian. With water and wind damage, Pease and her husband and son left their home early Wednesday morning after more reports of high surge threatened her community at the Yacht Club. 
"We evacuated at 6:30 in the morning," stated Pease. "and that was more so thinking about my son because originally we weren't going to leave. We're like, 'It'll [Hurricane Ian] be okay.'" And then, I'm so glad we did."
Right on the water, Pease's home was in an extremely high storm surge warning zone, with predictions of up to 16 feet of water. 
"We have a very large intersecting canal right behind us. We're on that canal and then, just like a block away, is the river. So, the front side of the house got all of the surge and then the back had the wind damage," said Pease. 
Luckily, her home is rebuildable, and Pease and her family were able to move back into their home the weekend of October 22nd and 23rd.
"The contractor gave us like a two-three week window to finalize, basically just making sure there was no mold and kind of replacing furniture pieces and clothing that we needed to," stated Pease. "We were pretty lucky that we didn't have total damage. We were just cleared with the air quality. This weekend we should finally be able to move in, but it's been almost a month now that we've not been back in."
Something no young child should ever have to experience, Pease's son has been left displaced at home and at school, as the kindergartener has been relocated to a host school for the time being.
"My son's at Cafferata [Hector A. Cafferata Elementary School], which lost their entire roof," stated Pease. "He actually started school today [October 21st] at Hancock Creek [Elementary]. They're hoping in a month or two to have some portables, but it's a lot for a kindergartener to kind of understand what's going on, but he's been a trooper."
A future meteorologist, Pease described her son's understanding of the impact of Hurricane as something unbelievable, explaining that he's been very mature for his age.
"He actually likes looking at radar and weather, so he was kind of fascinated. At first, he was actually excited for the power outage, which sounds horrible, but he thought it was going to be camping, and he quickly learned that it was not camping. But he did okay, and we just explained that there's been damage. But he understands that his school is going to be worked on and he may not get back there for a while," said Pease. 
Also residing in the Yacht Club area, Pre-IB Chemistry and Physics teacher Nicholas Diamond will not be able to return to the place he once called home. A renter, Diamond's landlord has decided that the house is too extensively damaged to fix, and is knocking down the home. 
"Of course everybody knows high winds. A lot of the roofing shingles were gone, but what really got it [the house] was about a foot and a half of water came through the house and flooded everything," stated Diamond. "And as you know, the stormwater has sewage in it and other things, so pretty much everything at touch was ruined."
Fortunately, a former coworker of Diamond's at Mariner High School offered a spare room for him and his wife to stay in for the time being. 
Diamond stated how the support that he and his wife have received is amazing. "We live in a time where we're kind of told, through all different media outlets, that people are not kind- that we hate each other. You know, all the tropes that go on. But what we've found is that people are wonderful. Strangers and friends, alike, have reached out to help and are in our entire experience."
Trying to stay on the positive spectrum of things, Diamond shared how the worst part of the entire store and its aftermath was not knowing if his wife was okay. "The worst part was, my wife was staying at a shelter at Dunbar High School, and my son and I stayed at home. So, she had no clue what was going on-whether we were okay or not. That was really the only bad part, and then, of course, losing the house, but we're fortunate, much more fortunate than our neighbors," said Diamond. "We're coming out of it. Just knowing that we live in a good world, and there's wonderful people in it, and that's what we're going to walk away from it [Hurricane Ian]. Knowing that people have been able to help you, as I couldn't imagine if our friends didn't offer us a spare bedroom where we'd be."
Diamond and his adult son both stayed during the storm, waiting it out in the house until they were forced to move into their garage. Along with their family dog, Diamond and his son waited out most of the storm in his truck, watching the water rise until the next morning. 
Feeling more in need of a plan than scared, Diamond shared some of the thoughts going through his head while waiting out the storm, "I was never scared. I was always thinking about 'What are we going to do next?' Emotionally watching the house flood that took a little bit to sink in, so that we could move forward," stated Diamond. "I barely saw any of it [Hurricane Ian] after we got in the truck. I spent my time staring at our water heater because if the water reached a certain point on the water heater, we were going to grab the dog and wade over to a house being built next door that's much higher. "
Losing everything to the sewage and sea water, Diamond's wife lost everything gifted to her from her grandparents, along with important photographs that can't be replaced. 
"My wife lost everything from her grandparents. They were in a bin that the water didn't get high enough to get into, but unfortunately that bin was old enough there were cracks in the bottom, so the water came up through the bottom," Diamond said. "She opened the lid and on top was a picture of her grandparents, only she knew it was a picture of her grandparents because mold had already grown between the glass and the picture. She just closed it and walked away, and I kind of wheeled it out to the curb and hid it so she didn't have to see it."
However, Diamond and his wife are trying to look on the positive side of their situation, "I think I feel lucky because they [homeowners] have to save their homes. We just have to find another one. They have to try to save theirs, and they're not going to get the money to do it. You have to build to the new code, which is 600,000 dollars and insurance will give you 200,000."
Grateful for their life-long friends, Diamond and his wife are looking to the future for what's in store for them, taking each day one step at a time. 
Junior and Business Manager for the Seahawk's Eye, Nathan Lawson is one of the many students at Cape High without a home to return to. 
"Our house was essentially destroyed," stated Lawson. "The roof was entirely torn apart, and the water damage was so extensive the house would flood anytime it rained. The pool cage was pulled out of the ground and thrown over the house, and nearly caved in that part of the building."
To add to the already horrid situation, Lawson and his mother were evicted from their home shortly after the storm. 
"It was about eight in the morning, just after power came back to the Cape. Putting it kindly, we were told to leave, and spent the rest of that day packing our things into a storage unit previously acquired for our temporary housing, which fell through for reasons I was never told," said Lawson. 
Lawson and his mother have separated, and aren't staying in the same home at the moment. Lawson is staying at a friend's house, whereas his mother is at another friend's home. 
Lawson stated how he and his mother haven't been doing well mentally as a result of his displacement, "I've been very stressed. It's pretty terrifying to be without so much, and to not know if you're actually safe anywhere."
At school, Lawson believes that his teachers have been accommodating of his situation and have been supporting him to the best of their abilities. 
"My teachers have been pretty understanding of my situation. Even though it [displacement] hasn't really impacted my classes too much, my teachers have been very empathetic," stated Lawson.
However, unsure of how things will be in the future, Lawson hasn't shared much with his teachers about his displacement, "Even though I've intentionally been rather vague about my current quality of life, my teachers have been supportive and encouraging where they can be."
Thankful for his friends' and teachers' support, Lawson stated that he is just taking things one day at a time, and trying to find a positive spin on his current situation. 
An unimaginable situation, many are struggling with displacement as a result of Hurricane Ian's impact in Southwest Florida. While the storm may be over, the effects of this disaster are long from being resolved. 
About the Contributor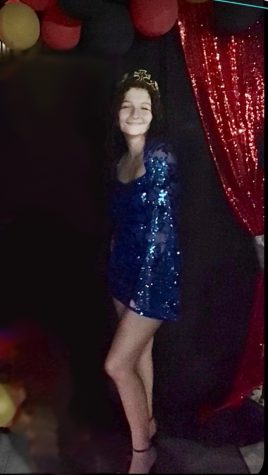 AJ Cudnik, Copy Editor
i like to keep myself busy