Three Lee County School Board seats remain open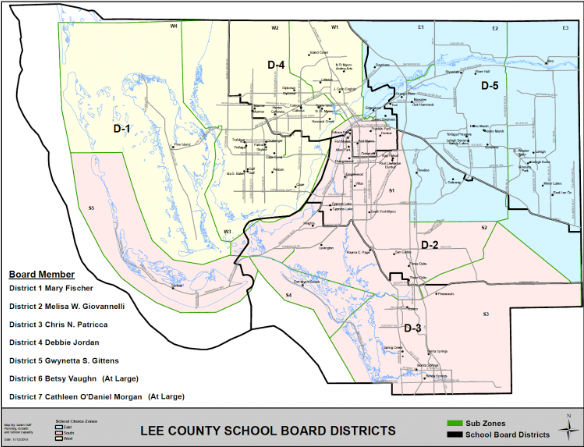 Election Day will take place on Tuesday, November 8th. Contrary to prior years, three seats are open for School Board members in the Lee County School District that will be determined by voters. The seats available are for Districts 1, 4, 6, each including different school zones. 
District 1 includes segments of the west and south school zone, District 4 contains segments of all three zones, and District 6 encompasses all of Lee County. Terms for school board positions last four years.
District 1:
Mary Fischer, who has served four terms on the school board is not running for reelection, instead leaving the seats open to newcomers Sam Fisher and Kathy Fanny. Fisher dominated the primaries with approximately 5,000 more votes than Fanny, however, tomorrow's election will ultimately determine the winner. 
Being endorsed by Governor Ron Desantis, Fisher, who was previously employed for the state at the Office of Criminal Conflict and Civil Regional Counsel, is running for a seat in District 1. Some of his priorities include returning to normal after the impact of Hurricane Ian, listening to the needs of the public, academic success, and increased transparency in regard to the budget provided to Lee County schools. 
"As a father of three children in Lee County schools, I want to make sure my kids and every other student are receiving the best education possible and that we are truly listening to our community," said Fisher.  
Meanwhile, Fanny has worked for more than 38 years in various school districts throughout the United States, has a bachelor in science in elementary education from the University of Delaware, and a masters in instruction from Rowan University. One of Fanny's main concerns is managing the percentage of students in Lee County who are below the academic standards for their grade level. 
"You can't have a classroom with 40 kids and one teacher. You need to keep at state-mandated levels and they're there for a reason," said Fanny. "In our district, 40% of the kids are below grade level on literacy and math. It's called the reading gap [and] the math gap, and we have to address that."
District 4:
In the primaries, Dan Severson narrowly led the race with only 378 votes more than Incumbent Chair Debbie Jordan. 
Jordan, who has served one term as a school board member, is the owner of small business Nina Rose Events, and forms part of several school board committees. In her next term, she plans to address the current issues regarding busing, ensuring schools continue to reopen, and increase career pathways and opportunities for students.
"Making sure that all [students] have the ability to have a good life, the ability to be creative, and to be whatever you want to be [is one of my motivators]," said Jordan. "I just believe in that because at the end of the day, [students] are going to be the future, and I just believe that we have to make sure that we support all and give you the tools that you need to succeed."
Severson, who is running against Jordan for the District 4 seat, has 22 years of naval service, and served eight years as a Minnesota State Representative and Minority Whip. Similar to Denise Nystrom (District 6 Candidate), one of Severson's main worries is transparency within the school board. 
"[My] top priority is really about transparency and finances: improving the environment for our staff teachers, and then improving security for our schools, keeping our students safe," said Severson.
District 6:
Jada Langford-Fleming led the race for District 6's seat with roughly 4,000 votes more than her political opponent Nystrom.  
Nystrom, who served as an assistant superintendent for eight years, special education administrator for three years, and special education teacher for 14 years, is running for the seat in District 6. One of Nystrom's goals is to take a deeper look into the district's annual budget and make sure that money is being properly allocated.  
"What I'd like to do is take a very close look at the budget to make sure that the money is being spent well because I'd like to see what else the students need in terms of resources to help them achieve," said Nystrom.
Facing Nystrom is Langford-Fleming, who graduated from Florida Gulf Coast University with a bachelor's degree in elementary education. Along with 20 years of teaching experience and five years of corporate experience, Langford-Fleming is also a physical fitness trainer for students. She wants to prioritize student safety, practice education not indoctrination, and reallocate the school board's budget to make sure students are receiving the best possible education, if elected as a board member. 
Although during the electoral season, other political races gain more traction and media coverage, school board elections are critical to the city's, state's, and country's future. 
"Our future is determined by our children," stated Cape Coral Mayor John Gunter. " I think that's one of the most important things. We have to make sure that our students in school are getting the best education, and the people who make those decisions are [the] school board members that are elected. It's extremely important, not only to elect the right person, but elect the right team of individuals."
About the Contributor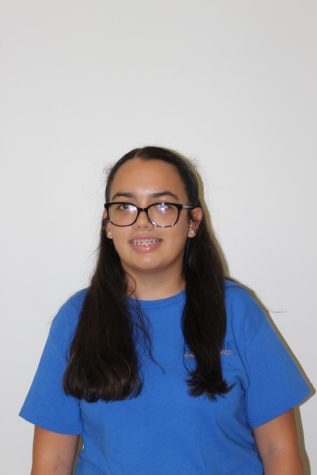 Sophia Dupeyron, News Editor
Hi, I'm Sophia, a sophomore at CCHS! Whether it's journalism, poetry, or a novel, I'm a writer and a reader.