Cape High's boys bowling team finishes their best season yet
Cape Coral High School's boy's bowling team finished their best season in school history on November 3rd. They have become district champions for the first time in school history and placed fourth in the state competition.
It is the highest Cape High bowling has placed and it is the first time they have made it past the qualifying rounds at states.
"It just leaves me wanting more," head coach Lamar Bryant said. "I want to capture the main prize of winning a state championship. Winning districts is great, but winning states has always been the highest accomplishment because a lot of teams can win districts, but not a lot can win states."
Before they went to states, the bowling team had to face Bishop Verot in the district championship. Cape High had never won a district championship, and Verot was the reigning champion trying to keep the crown, leaving the two in a fight for the win. 
Coral Lanes Bowling Alley was packed with families, friends, and the teams as they watched the intense district championship, cramped around the Verot and Cape High bowling teams. 
During the second to last game, sophomore Daniel Lynn had rolled a strike in the final frame, while the Verot bowler had rolled a split. "We thought we had that game won which would have gotten us the championship," assistant coach Anthony Foster said. " The Bishop [Verot] kid picks up this crazy spare, and then they beat us. Then we came back in that fifth game and beat 'em."
Cape High did come out on top of that final match, becoming district champions for the first time in school history. "Being district champions was a great feeling because the work we put in throughout the whole season finally paid off," said junior Joseph Letobar.  
The next stop for the boy's bowling team was the Boardwalk Bowl Entertainment Center, located in Orlando, Florida, home to the 2022 FHSAA Bowling State Championship. 
"It was fantastic [the experience]. You have this huge bowling alley with 80 lanes. It's ginormous," Foster stated. "There are tons of people there. There are tons of bowlers there, … and the atmosphere is just kind of crazy and intense. It was super fun though."
Cape High quickly made it to the playoff round and defeated their first two opponents: Leesburg 3-2 and Pinellas Park 3-2, but then hit a brick wall, losing to Cambridge Christian 3-0 and sending them down to the loser's bracket. 
After beating Circle Christian 3-2, their season would end after losing to Heritage High 3-2. "You never know what's going to happen, a couple of [openings] in a baker [playoff] match really hurts you," Foster said. "That fifth set in the final four, the other team just got hot and they shot a 255. That is what you have to do in baker."
At states, Cape High faced new competition and didn't know how they compared against the teams. "[It was] intense, just like any other state competition," Bryant said. "The competition is heightened during state competition."
Cape High looks to improve and go even further next season. "Expectations next year is probably to win [states] because the team that won states this year has a lot of seniors that [will be] moving on. If we don't get in that final match next year, I think it might be a disappointment," stated Foster.
Bryant, on the other hand, believes that the team's future is well-balanced. The boy's bowling team will have two seniors next season, which allows room for growth, while the other schools have four or five seniors, which can stunt growth. 
The bowlers look to improve individually to help the team grow. "To improve our rank or win the state [championship] next year, I want to try to support my teammates to become as good as they possibly can be and I'll try to improve my own skills," Letobar said.
Bryant took over the boy's bowling team in 2020, intending to qualify for states and bring the first boys bowling district title home to Cape High.
The team's goal for the 2023-24 season is to win the state championship.
Donate to The Seahawk's Eye
Your donation will support the student journalists of Cape Coral High School. Your contribution will allow us to purchase equipment and cover our annual website hosting costs.
About the Writer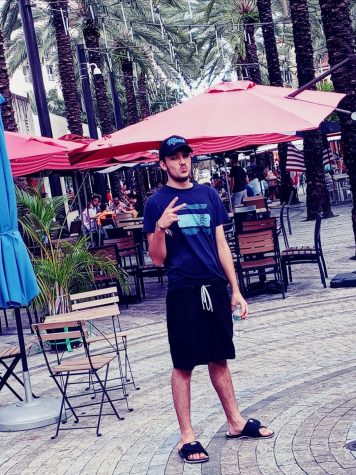 Morgan Larkins, Former Sports Editor
I've loved sports ever since I was a young kid and I look to help people through the world of sports.