Collaborative Cape High and FGCU jazz concert was a success
On Sunday, February 12th, Cape High's jazz band held a collaborative concert in the school's auditorium alongside Florida Gulf Coast University [FGCU] students and Benny Bennack III, a world-renowned vocalist and trumpet player. Like most FGCU concerts, the concert was completely free to the public. 
Brandon Robertson, FGCU's jazz professor, reached out personally to Eduardo Ortega, Cape High's band director and FGCU alumni, and inquired about the possibility of hosting a collaborative concert.
Thrilled with this opportunity again after their hurricane relief concert in October with their Wind Orchestra, Ortega responded quickly and stated how the guest performer was selected,"I said yes, it would be absolutely fantastic. So we organize the details, and then he tells me that we're inviting a guest performer," said Ortega. "Mr. Benny Bennack III. He's a trumpet player and he has gigs all over New York. He's also a vocalist, very famous in the New York area, so we kind of set that whole idea up, and it went well."
Rather than performing new pieces, the band opted to perform pieces they had previously performed at a scored performance and had experience with.    
"So we chose music that we know very well, the previous Friday, we went to our jazz MPAs," explained Ortega. "So some of the music that we used for that event we used as well for this event. It was music that was familiar and music that we already knew. We had just been preparing it for a couple of weeks."
The Florida Bandmasters Association conducts annual music performance assessments [MPAs] for bands throughout the state. Although last year Cape High's jazz band received a "fair" grade, this year, band received two superiors [A] and one excellent [B], earning an overall rating of superior. 
"I'm not sure if there was a plan to rehearse because the collaborative concert was right after MPA," stated freshman Jarrod Beaudry. "Friday was MPA and then Sunday was the concert. Honestly, I think we did really good. That's probably the strongest our jazz band has been."
The upbeat energy as a result of Friday's success at MPA continued throughout their Sunday concert. Similarly, FGCU jazz students carried the energy after congratulating the Cape High students. The effect of the energy from collegiate level musicians inspired the vast majority of the jazz program to perform just as they had nights before.
Performing alongside experienced and seasoned musicians such as FGCU and Bennack have given members of the jazz band an opportunity to observe musicians in a professional setting, and learn skills about performing at a professional level.. 
"My favorite part of the concert was probably being able to understand the depth and maturity it takes to be able to play in such a professional environment," said senior Liam Feahr. "Some of the FGCU students were actually playing for Mr. Bennack III. Mr. Bennack III is like a New York musician and these are just FGCU students. So it led me to think, if I just work a few years in college, I'm already going to be on that professional level."
Ortega agreed saying, "I hope they got to see what legitimate musicianship is like. I feel like they know what good musicians are like, but when they got to see like Benny Bennack III, and Brendon Robertson, and all these professional musicians, they are at such a high caliber that it's unreal, so I wanted them to just get exposure."
For Feahr, not only did Sunday's concert inspire him to work harder, but it also exposed him to a different audience.  
"Well, it puts me in front of a new audience and it surrounds me with people who are different than what I'm used to," explained Feahr. "I'm used to high school concerts, I'm around high schoolers, and I'm around other parents. But now, I was going to do a concert where people will go to see a professional jazz concert."
Ultimately, both students and audience enjoyed the collaborative concert and the opportunity to play music alongside professionals.
"I thought it was an amazing experience just being to witness an actual professional musician," said Beaudry. "I really hope we can attend an FGCU concert again."
About the Contributor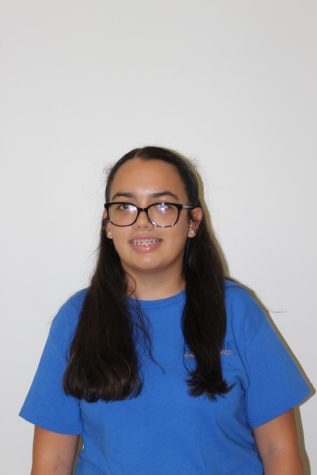 Sophia Dupeyron, News Editor
Hi, I'm Sophia, a sophomore at CCHS! Whether it's journalism, poetry, or a novel, I'm a writer and a reader.