Environmental Club Reaches State Competition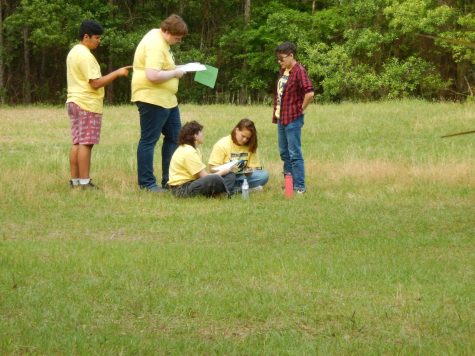 On April 22nd, 2023, the Environmental Club attended Envirothon, a statewide competition. Members from Cape Coral High School traveled to the University of Florida's Austin Carrey Forest to compete and answer questions about different environmental topics, where they placed 9th overall. 
The advisor of the club, Elizabeth Kominar, originally created the club out of her appreciation for the environment. "We created a competition team because we found out that there's a competition called Envirothon," she stated. 
Throughout the year, the club has gotten ready for Enviorthon by studying different facts and concepts. They meet every Friday after school in Kominar's science classroom. 
"The purpose of the competitions we do is to learn about different areas of the environment and how to study to learn from it," stated junior Haven Mena, the President of the club. 
In early 2023, Enviorthon Regionals took place at Lakes Park. Based on the team's success, they were then invited to states. 
Enviorthon was founded by the National; Conservation Foundation, and takes place throughout the United States, Canada, and China. The competition takes place at a regional, state, and bi-national level. 
At Envirothon, competitors do hands-on activities at the competition, such as measuring water salinity and identifying the soil type. 
"We usually study for each of our own topics and we prepare with tools Ms. Kominar has provided us," stated the current Treasurer, junior Veronica Varona. She is currently studying the wildlife topic, which is one of five topics: aquatic ecology, wildlife, forestry, soils, and current environmental issues (commonly referred to as 'current').
"Current and soil are both the difficult ones," Kominar stated in terms of the topics, "but they have a whole study guide and everything for the competition." The 'current' topic changes every year. This year the topic was taken on by Mena. 
"The current topic was climate change," stated junior Emma Shilling, Vice President of Environmental Club,  "so we had to do a little presentation for that. And we kind of scrambled for that because they didn't give us the prompt for it until a week before."
With Enviorthon being so close to the end of the year,  some members have been feeling stressed, as most of them are IB juniors. 
"With everything IB throws at us plus worrying about college I don't get a lot of time to study for it [Envirothon]," Varona exclaimed. 
Each member either picks or is assigned to one of the five topics, which would then be their singular focus for the competition. Shilling, for example, chose the forestry topic. 
"You get to identify trees and forestry practices for taking care of land and forests, she stated, "so I think it's really interesting."
The Environmental Club works a lot in the community, which contributes to the service hours given. Recently, the club helped out with Kids Fest, which was located at Cape High this past January.
In most club meetings, members will review volunteering opportunities and activities in the community for them to participate in. They also focus on learning about environmental issues, which spreads awareness to members, but also helps them prepare for Enviorthon. 
"For anybody that wants to learn about it, they can stay, and they get hours for doing that," Kominar said. 
Everyone in environmental club is friends, even outside of meetings, as most of them are in the same IB classes. However, what worries the club is that there aren't many members, and without the current juniors in the club, there would only be one member. 
The team is always advocating and welcoming new members since the club definitely pays off in their eyes. "This club has helped me get all the hours I needed for Bright Futures," said Mena,  "and has given me a lot of opportunities to help the community."
While the team didn't win any medals at states, they did place in 9th overall and enjoyed their weekend together in Gainesville. 
" I definitely think that we should have spent more time studying just together as a group," said Shilling. 
Kominar started this club in Cape High 15 years ago. Now, in her last year before retirement, she and the rest of the members are looking for a new sponsor. 
"I'm hoping I can find somebody to replace me," said Kominar, "So far, there are no takers."
This left members worried about the existence of their club next year on top of studying for Enviorthon. The group is hopeful that if Kominar's replacement for a science teacher won't take on the role as their club sponsor, then a current teacher will.
 If no teacher steps up for the position, this may have been the last Envirothon for Cape High.