Oh captains, our captains, farewell and good luck
Marina,
Marina Passos is one half of the powerhouse that led the Seahawk's Eye this year. While not as outspoken as her counterpart, Marina's ability to lead and control this staff when necessary is what makes her an excellent Editor-in-Chief. Throughout the year, Marina dedicated much of her passion and talent into her role as Editor-in-Chief this past year, and so many parts of the paper would not have been possible without her.
Marina is always there to take care of the tedious tasks of running a paper that nobody would think of. Not only are her ideas for stories creative and innovative, but the execution of her writing is never without effect. Never complaining or procrastinating, Marina without fail ran the Seahawk's Eye Instagram and website flawlessly, making sure that they were up-to-date with the latest information. Her talent for graphic design showed through in our Instagram, coming up with new and creative ways to share news and more with the student body at Cape Coral High School.
With plenty of experience as the News Editor her junior year, Marina made sure that those who already knew her and the newcomers to the Seahawk's Eye got to know her as kind, welcoming, and ready to work. She has always rooted for our successes, and helped us out during our downfalls. 
She's made sure that we're prepared next year without her, as well as the rest of the senior class. Marina is always there when we need her and always helps to keep staff on track and focused when we get sidetracked. She's the one spending time finding the latest news on and off campus, as well as making sure we have fun along the way. 
Along with writing, Marina has also helped out the visual team on the paper with her photography. She was always willing to take pictures at soccer games and pep rallies. For the most recent Florida Scholastic Press Association (FSPA) Competition, she won an honorable mention for her soccer photography.
During her senior year, Marina also won an honorable mention as well as an excellent for her articles. One of them being the Anthony Bussta profile, which was originally almost 3000 words long, and certainly left an impression on the student body.
Every staff member was seen for their talents and skill throughout the year. Marina made sure of this by going through every piece of writing from every student from the past year to submit the best ones from the FSPA competitions. The care for everybody's success did not go unnoticed each and every class period as she dedicated her time and energy into ensuring that nominations for competition were submitted on time and accurately.
Marina's creativity, dependability and kindness was the voice she used when leading the class. Her behind-the-scenes action in class set each edition up for success, and made sure the class has fun as well. 
What we're really trying to say is this: Marina, you'll be missed. We will miss your quiet presence that spoke volumes about you as a person. You were all that the Seahawks Eye needed and more in an Editor-in-Chief, and we're so glad that we got to know you.
We hoped that you enjoyed being a part of our family within newspaper, and we know that wherever you go, you will succeed. You can adapt in any situation, and have always been the number one supporter behind and in each and every scene. 
Thank you for being there when we needed you the most, and have the best experiences in college.
Abby,
To say that Abby Malloy is an unforgettable person is a hasty undergeneralization. Her constant leadership and dedication to the Seahawk's Eye has helped her succeed in newspaper, as well as in her academic excellence.
Throughout the year, without fail, Abby always wanted the best for the paper, and did everything she could, plus a little extra, to ensure everything got done on time. While there's a possibility she may have spent more time messing with the paper's layout on Adobe Indesign throughout the year than sleeping, the layouts for every edition have always been flawless. 
She has taught us more about Indesign and Photoshop in 6 months than we could've learned in years. She is always there when Adobe crashes and helps us when Photoshop decides it doesn't want to merge layers.
The entire staff was challenged in numerous ways this year. Hurricane Ian ruined so many plans that Abby and Marina Passos had planned out. The staff was strong and their path was bright because of all of the plans that they had laid out. Despite this, Abby and Marina reached out to everybody and made sure everybody was okay. From there, they continued the paper's journalistic integrity through the weeks following the storm, by assigning the best coverage possible.
Abby's excellent leadership kept the Seahawk's Eye alive in a time when it was uncertain whether or not we would have a home to go back to. She held us together and made sure that we would all be there for each other, offering support and guidance whenever possible. 
Abby's goals for the paper were always set for the highest bar. Her outreach to powers and sources beyond our school gave the paper incredible opportunities that we would not have gotten otherwise. She not only made contact with Cape Coral's mayor, John Gunter, but was in the process of setting up a virtual conference with Governor Ron DeSantis, as well as in contact with people close to President Biden. 
Her ability to go farther than ever before in order to make sure that the Seahawk's Eye was prepared and ready for anything, set us up for a year unlike any before. Abby Malloy never gave up on something that she wanted staff to achieve this year and continues to push that mentality onto us. 
Abby always put her staff's needs before her own, making sure each article is the best it could be and the layout was always new and exciting each time an edition came out. It was because of her strong will and determination that the Seahawk's Eye continued on, following the aftermath of Hurricane Ian. 
At the beginning of each class session, everyone knew to look to her for instruction and the layout of the work that needed to be done that day. This made the class more efficient and organized. 
Abby was also our biggest advocate for writing about the tough subjects that presented The Seahawks Eye as mature and advanced, compared to other stories acceptable for just a school paper. She's made this paper better and brighter for the future, and set us up for success after the seniors this year leave. 
We wish you the best of luck as you enter the University of South Florida, and we know you will continue to do outstanding things and inspire those around you. 
Donate to The Seahawk's Eye
Your donation will support the student journalists of Cape Coral High School. Your contribution will allow us to purchase equipment and cover our annual website hosting costs.
About the Contributors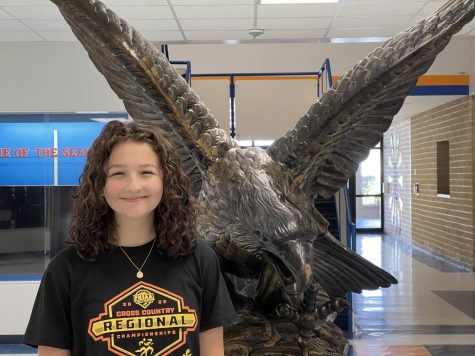 AJ Cudnik, Editor-in-Chief
In the words of Taylor Swift, "I'm intimidated by the fear of being average."