Principal Engelhart to leave Cape High
After nine years in the Nest, Cape Coral High School bids farewell and goodluck to Principal Christian Engelhart. Announced in a school board meeting on Tuesday, May 23rd, the 2022-23 school year marks the last year Engelhart will spend as a Seahawk. Moving on to working with a larger student body, Engelhart will begin as the principal of Fort Myers High School on July 3rd, exchanging his blue and orange spirit for green and white.
Reminiscing on the people and the time he has spent at Cape High, Engelhart stated how leaving his fellow Seahawks is bittersweet, "I love the school. It's been amazing. I can't believe it's been nine years. I always like to think about time, how my kids have grown and so when I became an assistant principal here, my son was in Pre-K. Now, he's a freshman here at [Cape High]," said Engelhart. "I truly think this school has been a huge part of my life throughout a very crucial time, where I'm raising my kids and my family. We spent so much time here that I'm gonna miss it a lot. It's gonna be weird. Now, it's like it's different. Sometimes, I feel like it's [leaving Cape High] still not fully sunk in."
IB Chemistry and Theory of Knowledge teacher and AP Coordinator at Cape High, Dana Isaac, mentioned how throughout his nine years as a Seahawk, Engelhart was always supportive and helpful, "If you wanted to try new things, you could just go and talk to him [Engelhart] and he was very open to that as long as it you know, followed district and state guidelines. Students were asking me about Dignity Closet or things like that, and I was like, 'You should go and talk to him and he's very approachable,'" said Isaac. "Not a lot of leaders are like that. Sometimes people are fearful, and I don't think anybody was really ever scared of him."
With both of his children at Cape High, the move to Fort Myers High school will be different. Engelhart's daughter, sophomore Amber Engelhart, mentioned that while she is most likely attending Fort Myers High, she is very excited that her father has been offered this job, stating, "He's worked really hard and he loves this school, but it's good that they gave him the opportunity because it just shows that he's done a good job."
However, not everything about the change in schools will be different. Like Cape High, Fort Myers High has an IB program. Engelhart believes that his experience in an IB school is part of the reason why the school board moved him to Fort Myers, stating, "I think that's [IB] one of the reasons why I'm going to be going to Fort Myers because I do have nine years of experience working with an IB program. So, that's exciting is to be able to kind of take what I've learned here and kind of learn some stuff there," said Engelhart. "I think it'll be kind of neat to be able to get a different perspective on a different IB program and see how things work, and it'd be a good learning experience."
As of May 2023, there has been no news of who will replace Engelhart come August, leaving some long-term teachers concerned about the change in authority. 
"I think as far as what teachers are teaching and things like that, but when a new leader comes in, the culture, the environment-things can feel a little bit different," said Isaac. "So, I just hope the next person that comes in is also willing to listen to the teachers and be friendly. I know that they have to follow district and state rules as well, but you can still [be] approachable and not like a dictator and bossing people around and telling them what to do."
According to Isaac, the school district is "going to allow us the opportunity to tell them what we're looking for in a leader because we had a really good leadership team here." 
A "School Leader Profile" survey was emailed to all students, staff, and parents of Cape High on Wednesday, May 24th, to determine who Engelhart's replacement will be based on what the school as a whole is looking for. 
All things considered, Amber believes that Engelhart has done as much as a principal could for Cape High, believing that his caring spirit and personality has led him to where he is today, "He just cares a lot about the school and about the kids in the school," said Amber. "He thinks about a lot of the people at this school like family, like his coworkers and other teachers. He'll just be remembered as a great principal."
While uncertain of what his future holds, Engelhart is excited about the new change in his life, "Anytime there's change, I feel like it creates a little bit of you're just uncertain. I definitely think you grow from it, and you learn from it, and so I think that'll be cool," said Engelhart. "I'm looking forward to it. I mean, it's definitely not what I expected. But now that I've had a little bit of time to process, I think it'll be fun. It'll be good. It'll be a different challenge."
Donate to The Seahawk's Eye
Your donation will support the student journalists of Cape Coral High School. Your contribution will allow us to purchase equipment and cover our annual website hosting costs.
About the Contributors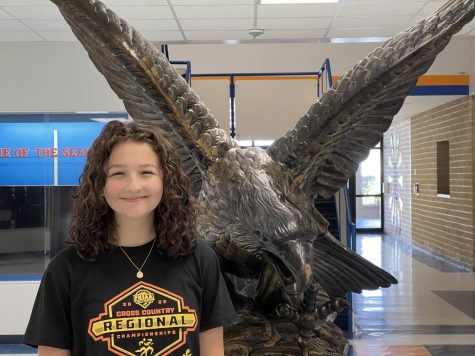 AJ Cudnik, Editor-in-Chief
In the words of Taylor Swift, "I'm intimidated by the fear of being average."