Assistant Principal Holcomb to start anew at Fort Myers High
Jana Holcomb has worked in Lee County for over 15 years, nine of those years at Cape Coral High School. Prior to her time at Cape High, Holcomb worked as a middle school reading teacher, went on to be the Cape High's reading coach, and eventually worked five years as an administrator.
Holcomb's administrative role will follow her in her transfer to Fort Myers High School.
As a reading coach, Holcomb dedicated her time to improving the English and reading test scores throughout the district.
"She started as our Reading Coach and was excellent at getting kids to meet graduation requirements with regards to their ELA achievement level," said administrator Troy Beall who has known Holcomb for nine years. 
Despite leaving the nest, Holcomb will be able to work alongside a familiar face at Fort Myers High, Christian Engelhart, who will be also taking over as the Principal there. 
'I'm very excited about that," said Holcomb. "I've learned a lot from him as a principal. I worked with him when I was a reading coach and he was an assistant principal here, so I'm excited that I get to continue working with him. And like I said, it'll be a new opportunity for both of us."
As the person currently in charge of overbuilding and facilities, Holcomb works to facilitate and direct repairs at the school, such as those necessary as a result of Hurricane Ian. As a result, she hopes for the administrator to fill in her position to be flexible, organized, and work well with others.
"There are a lot of projects that are constantly in the works that you've got to keep organized. But also I think another quality is to be flexible, because sometimes things don't always get finished when you were hoping they will or projects get put on the backburner," explained Holcomb. "And you've got to be able to work well with many different types of people, contractors, staff, students, district personnel."
Although Holcomb is excited for this new opportunity, her farewell is bittersweet as both other staff members and students will miss her. "It's sad to see our administration team broken up, we all started together in the summer of 2019," said administrator Marla Wunderlich.
Beall agreed, recalling all the memories they've shared throughout the years. "Her and I have a competition every year about who can get the most thank you letters from stakeholders and we would tape them up on the door between our offices. She has yet to beat me!"
Other staff members are also going to miss Holcomb's influence and positivity. "Mrs. Holcomb is very easy to talk to, she's approachable, and is capable of listening with a positive attitude," said Spanish teacher Gretel Matos. "She contributes a lot and is present and visible before school and during dismissal. She's always made sure we are supported and allows us to feel supported by the administration."
One of the things Holcomb is going to miss at Cape High is seeing her daughter everyday. 
"My favorite memory is my daughter coming here this year as a freshman with me working here. It was great being able to see that and see who her classmates were going to be. It was really cool after all these years to actually get a year in the same building with her."
Ultimately Holcomb looks forward to a new chapter as an administrator, while saying goodbye to everyone she will leave behind.
"I just love the school, love the staff, and love the students," exclaimed Holcomb. "It's been great being a Seahawk and there will always be a special place in my heart for Cape Coral High School."
Donate to The Seahawk's Eye
Your donation will support the student journalists of Cape Coral High School. Your contribution will allow us to purchase equipment and cover our annual website hosting costs.
About the Contributor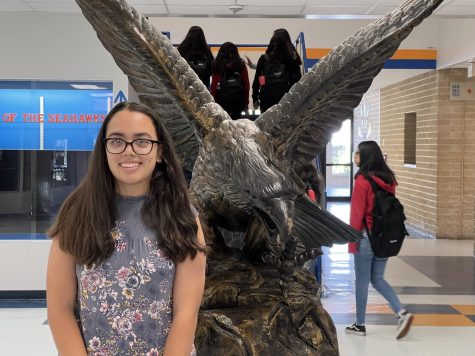 Sophia Dupeyron, News Editor
A book-obsessed writer with oatmeal raisin cookie humor.