"Keep on believing," senior Anthony Longstreet's autism awareness book has excelled
The lights are dim and the chatter is low as senior Anthony Longstreet walks into fourth period, heading straight for the teacher's desk. After discussing it with his mom the night before, Longstreet has decided that since a novel is too hard to write, a children's book would be a great alternative. 
He presents the idea to his creative writing teacher, Aaron Smoly, who encourages him to pursue his proposal. Longstreet goes on to produce a book that not only supports and inspires kids on the autism spectrum, but also goes on to rank #1  in new releases in the category "Teaching Students with Learning Disabilities" on Amazon.
As someone with autism themself, Longstreet was put on the autism spectrum back in 2019. Prior to his official diagnosis, his mom was skeptical whether he had a developmental disorder, especially with his pre-existing behaviors associated with OCD.
Three years ago, Longstreet and his family moved to Cape Coral from New York. While in New York, Longstreet struggled to acclimate himself to the school environment. 
"When you go to school up there and you're on the spectrum, you get sort of left out sometimes," said Joseph Longstreet, Anthony's father. "They have 50 other kids in the class and, if you don't make yourself known, which back then he didn't, he could have been left behind." 
Upon arriving, Anthony was able to grow to his full potential alongside a strong network of teachers and classmates. ESE Intellectual Disabilities Teacher Cathleen Cloonan, allowed Anthony to leave class earlier than usual to avoid the loud and crowded hallways, being an overall guide for him at school. As a result, Anthony quickly became an exemplary student, joining the writing program and making the honor roll.
"He blossomed so much once he went to Cape Coral High School. Mrs. Cloonan was his resource room teacher, [she] really helped him out through the years," said Barbara Longstreet, Anthony's mother. "He got into this creative writing program, and he did excellently. I just can't believe my son wrote a book and published the superhero section. I couldn't believe how much he did, I'm so proud of my son."
Anthony's friends and teachers were the main reason he adjusted to his new environment, stating, "I'm really gonna miss them. They really helped me through high school and I wouldn't be here without them." 
Although Anthony usually keeps to himself, he is known to be friendly with others, leaving an amiable impression on his fellow Seahawks, "He's very quiet when he isn't in a situation where he has to talk," explained senior Milosz Maras. "He's an outgoing individual when you give him the opportunity to be."
Cape High has had a creative writing program for four years, spanning from Creative Writing 1 to 3. Students like Anthony who enjoy the class have the option to take the class for multiple years throughout high school. 
During his time in the  program, Anthony was able to express himself freely through writing. He took up new roles within the program, including becoming editor of the superhero section in this year's edition of the Expressions Literary Magazine. 
According to Smoly, Anthony played a crucial role in adding a special touch to the third edition, "Anthony, however, was in charge of taking [Expressions] and making a more specialized section and curating the different content that people would turn in and helping them edit and get edits for those stories that would appear in the superhero section."
Students that choose to take Creative Writing 3 have a capstone project which essentially requires students to publish their own writing whether it be on Amazon or other platforms.
Originally, Anthony had planned to write superhero fanfiction with the ultimate goal of publishing on a website. However, Barbara suggested the idea of writing a children's book on Autism. 
"He mentioned that he can't write a novel, the teacher said it's little hard, so I told him, 'Why don't you write a children's book?' and he said 'Mom, that's a good idea.'"
After writing the script for the book, a student agreed to illustrate his book, however, due to time constraints and other responsibilities, they were unable to do so before March. Anthony did not let this deter him and began to develop his own images using Bing AI image generator, where he created prompts and generated the images found in his book.
While Smoly did the editing, Anthony was responsible for all the other work found in his book. The images, writing, layout, and idea were all Anthony's original thoughts and actions.  
"During the process, every single day, Anthony would talk to me five to ten times a day about different aspects of his book and how he wanted every single part of his book to be perfect," explained Smoly. "Anthony's passion and his excitement for this project is greater than I've seen from any other student for any other project during my time as a teacher."
After publishing his book on May 1st, Amazon named I'm Proud to be Different: A Children's Book about Autism the #1 new release in Teaching Students with Learning Disabilities, an incredible feat considering these lists are filled with internationally published books.
"What inspired me to write the book is that I want to help kids learn and people to accept that even if they're different, that they have autism, that it's okay," said Anthony. "People accept them for who they are and it doesn't matter if you're different, people in the end they're still going to accept you."
Anthony's drive to make this book has shown others the power passion could have when fulfilling a goal. "It is a very noble effort. I think what he's done is magical, quite frankly, I don't think that no matter how much effort I could have put into it, I could have written a book that exemplifies how my or other experiences of autistic folk can be in school," agreed Maras. "I'm very proud of him." 
While Anthony's diagnosis may seem like a burden for him socially, he has never failed to show his true colors and demonstrate who he is at heart. "Anthony is a kind hearted young man with a heart of gold. He gets along well with everyone and he's a wonderful student," stated Cloonan.
The book itself is well made, the simplistic yet thoughtful approach of the design makes it ideal for the target audience, those on the spectrum who may not feel like they fit in. 
As for the message inside, Anthony gave the perfect lesson to the young kids who have and will read his book. Part of this is owed to Anthony's first-hand experience in living as a high functioning teen on the spectrum.
Anthony used his personal autistic tics in order to relate to and empathize with the reader. "Sometimes the traits I have is I repeat myself, sometimes I say things over and over again. I get upset, but then I overcome it and learn to live with this thing that happened," explained Anthony. "You start realizing everything's fine, it just takes a matter of time and how it happens."
Anthony helps the reader understand that being on the spectrum does not mean they are inherently unaccepted. He encourages embracing differences, despite being diagnosed with autism. 
The theme of the book clearly hits close to home for Anthony, as he was once in the exact position of the kid who's "different" when he first came to Cape High. "The challenges I faced, it was loud, it was a big school with the crowds and the hallways and stuff," explained Anthony. "Then I got used to it, I was used to the kids in the class." 
Those who've supported Anthony throughout the process of writing the book know for sure the book will have a great impact on those who read it. 
Along with having his book published, Anthony also gained invaluable skills through the process. "Where in the past [Anthony] used to have to ask us almost for everything, he doesn't do that anymore and I think experience with the book helped him out with that a lot," mentioned Joseph.
From start to end Anthony has displayed his passion towards the Autism Awareness movement. He's committed to donating half of the profits he receives from his book to Autism Speaks, a non profit organization dedicated to spreading awareness on autism. 
Now that high school is coming to an end, Anthony is ready to move on in life and see what other amazing things he could accomplish. "I plan on writing other books. This depends on what I'm gonna write. I have to think of some ideas, then start writing and publishing it." says Anthony. 
Writing his first book was just a small step that will help him do great things in the future. "He says he's thinking of writing maybe part two, maybe another children's book" explained Barbara. "It made him so proud of himself, it made him realize "you know what, I can do it"." 
After three years of growth and excitement at Cape High, Anthony leaves the classroom signing one last message in Smoly's copy of the book, "I hope you enjoy the book and keep on believing." 
Donate to The Seahawk's Eye
Your donation will support the student journalists of Cape Coral High School. Your contribution will allow us to purchase equipment and cover our annual website hosting costs.
About the Contributors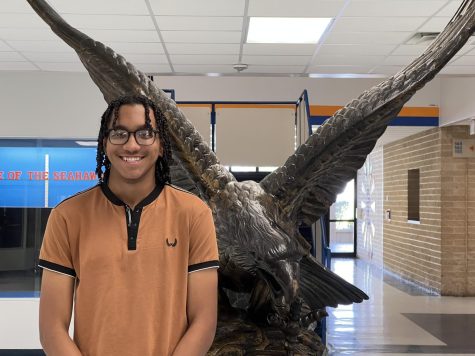 Giovanni Ruiz, Copy Editor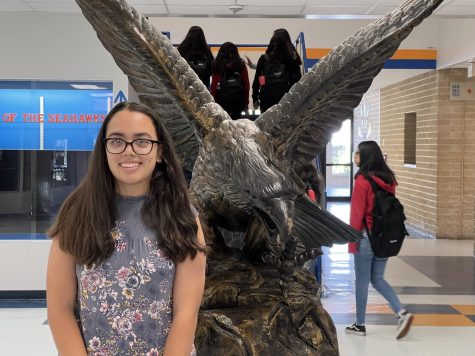 Sophia Dupeyron, News Editor
A book-obsessed writer with oatmeal raisin cookie humor.