Students find the light in a time of darkness
While Florida Governor Ron DeSantis' stay-at-home order may keep Cape Coral High School students apart, many Seahawks are finding creative ways to come together. 
Cape High seniors Sedona Scott and Naomi Simanjuntak decided to spread kindness by making cards for their neighbors. "We put positive messages on the front with a cute picture," Scott said. "On the back we wrote, 'Stay healthy, stay safe, stay positive." 
Scott and Simanjuntak recognize the importance of supporting one another during this pandemic. "We can spread kindness during this difficult time by doing little things, such as spreading positive messages in our community, supporting local businesses, and giving back to those in need." 
The Red Cross Club is planning on supporting healthcare professionals by offering virtual services. Junior Nicole Chang, the president of the Red Cross Club, said, "The Red Cross continues to work for Home Fire prevention and relief, military families and veterans in need, and patients in need of blood."
Chang invites students to participate by donating blood. "Everyone who is willing to donate blood at this time should do so. It would be greatly appreciated as blood banks and centers are in extreme need of it," she said. "The Red Cross is working with Oneblood and Lee Health to make more donation centers that are regularly cleaned and sanitized."
In addition to supporting community members, many Cape High students are caring for their families during this time. Junior Shane Spotz recently traveled to Colorado to quarantine with his extended family. Spotz has been running errands for his elderly grandparents who aren't  able to leave the house and watching his cousin Allen McMullen's new puppy, Covid.
"I feel much safer here with my family and being with them should anything go wrong," Spotz said. "Being together through all of this instead of over a thousand miles apart has brought us much closer."
One positive result of people staying at home is an decrease in pollution. Christian Estevez, an AP Environmental student, said, "Coronavirus has led to decreased levels of emissions as a result of transportation such as NOx [gases] emitted by gas-burning vehicles." 
One type of reduced pollution is noise pollution. Noise pollution occurs when there is an excessive amount of harmful noise in an urban area. "A lack of noise pollution is important as it disrupts the communication of animals," Estevez said. 
Of course, these environmental changes are a result of government policies and not the virus itself. Estevez hopes that we can learn from this pandemic to prevent similar outbreaks in the future.
Cape High students recognize the importance of social distancing during this difficult time and are remaining hopeful for the days to come.
About the Contributor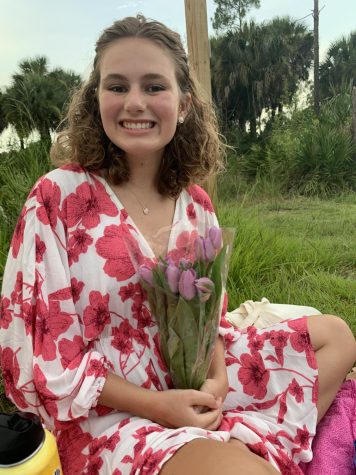 Ella Casto-Waters, News Editor
I love you and hope you have a nice day.