Student-run Prism Concert was a success for the second year in a row
With performances split between two days, April 26th and 27th, Cape Coral High School hosted its second-ever Prism Concert. The now annual Prism Concert is a student-run show that is composed of performances from Cape Chorale, Band, and the Hawkettes. 
Although the Prism Concert ran for two days, the acts and performances were completely different with the exception of a few. There were varied performances with solos, duets, small ensembles, and larger groups taking the stage throughout both nights. 
"We had a jazz band, dance performances including solos and pep rally dances, choir performances with beautiful songs and an amazing performance from the marching band, and more," said sophomore Maya Straub. 
Considering that this is the second Prism Concert hosted, both teachers and students were confident in their ability to cut transition times. As a safety net, Melissa Dominguez (the Hawkettes), Kristi Fish (Cape Chorale), and Eduardo Ortega (Band) were equipped with radios for quick communication.
"I think it ran smoother because we had more experience based on doing the show from last year. I think the students showed more growth this year as well so their performances were better as well," said Dominguez. 
Similar to last year, tickets were both sold through gofan where the presale price was $6.00 with a $1.00 processing fee. On the day of the performances, the online price increased to $9.00 with a $1.00 processing fee while tickets were also sold at the door for $10.00. All the proceeds from ticket sales were equally split between all three departments.
Prior to the concert, the band, choir, and dance practiced independently, choosing to have two tech/dress rehearsals with the entire cast a week before the concert. The choir began practicing their music after MPAs, in order to make sure they were adequately prepared. However, Dominguez challenged the Hawkettes to utilize a cover song for their performances, allowing them to discover something new. 
"At first they were not happy with it because that's kind of hard, to find a song that you like, but a cover that is a different version of it," said Dominguez. "But I thought it got them out of the box and got them into a different style of dance and it came out really good." 
The dancers were also given class time for student choreographing. Altogether, the Hawkettes had five numbers with two of them being with the entire group, three of them in smaller groups, and four solos. 
Even more extraordinary is the fact that the Prism Concert is a predominantly student-run show. Students are responsible for what is occurring, both in front and behind the stage.
"All the lights, all of backstage, it's all ran by students," said freshman Phillip Munoz. "The only stuff that is staff or teacher would be conducting or making sure that people are out when they need to be."
Ortega believes this to be a crucial part of the Prism Concert and a true experience of concerts in the professional world. 
"When you get to the real world, you're kind of responsible for everything you have to do," said Ortega. "So this is an opportunity for students to understand how to work together. They may not view it under this lens, but the reality of it is you have to learn how to work together. You have to learn how to be with each other. You have to learn how to settle differences apart."
The Prism Concert was promoted through several different platforms. Posters with QR codes were posted throughout the school and social media accounts, while it also spread through word of mouth. 
Throughout the night there were also pieces dedicated to seniors. 
"One of my favorite performances was definitely the ending when we did the senior moment for Choir," said sophomore Gianna Treglia. "It was super sentimental and I love to be next to my seniors who I'm going to just miss so much. And another favorite was able to dance with the dancers at that moment because we were standing behind them. So we got to incorporate the choir, dance, and band all at once."
Although the Prism concert was supposed to run from  6:30 to 8:00, it ultimately ran to two hours, due to the complexity involving transition times. 
"We were aiming for an hour and a half, right up to about two hours. We had a couple of delays,  a couple of transitions took longer than we expected," said Ortega. "So they were about a 10 to 15-second delay, which seems like nothing. However, those add up throughout all the acts and that's the reason why it got delayed by half an hour."
Ultimately, the Prism Concert allowed parents, students, and people within the community to witness the coming together of three different forms of art.
"I think it really shows unity and diversity, that you can share a common language with a whole bunch of art kids, whether it's music related, dance-related, you're all combining to show art to people, and that itself has its own language," explained senior Natalie Cleneay.
Donate to The Seahawk's Eye
Your donation will support the student journalists of Cape Coral High School. Your contribution will allow us to purchase equipment and cover our annual website hosting costs.
About the Writer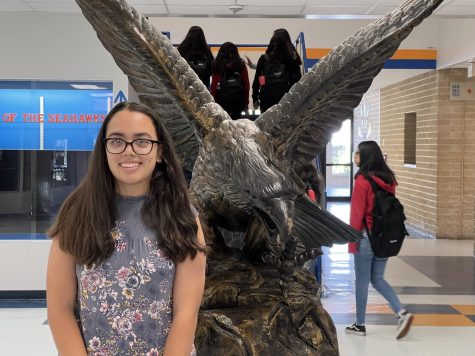 Sophia Dupeyron, News Editor
A book-obsessed writer with oatmeal raisin cookie humor.