Cobra Kai season 4 was a disappointment
From the first snippy remark Johnny Lawrence made toward Daniel LaRusso about how lame and stupid Miyagi-Do karate is, season 4 of Cobra Kai sent itself into a downward spiral that not even ten episodes could fix. 
Season 4 starts off seamlessly from the end of season 3, where John Kreese, played by Martin Kove, has bet against LaRusso (Ralph Macchio)  and Lawrence (William Zabka) at the All Valley Under 18 Karate Tournament. The winner(s) gets to keep their dojo(s) open, while the loser(s) have to permanently close down. 
With Johnny Lawrence and Daniel LaRusso teaming up, it seems like they could have this championship in the bag-well, for the first five minutes of the show, maybe. It turns out that these middle-aged men are so stubborn that they cannot work together or agree on anything because of some feud that they had in high school thirty years ago. 
Season 4 also introduces Terry Silvers, a Vietnam war veteran who served with Kreese and the main antagonist of The Karate Kid III, to assist in the training of Cobra Kai students. Played by Thomas Ian Griffith, this wealthy and high up member of the Valley who has long forgotten about Cobra Kai, but gives up everything to help Kreese, who saved his life in Vietnam. 
Writers and producers Josh Heald, John Hurwitz, and Haylen Schlossberg decided that realistic problems and societal issues of 2022 should be incorporated into their already drawn out and plainly scripted show by creating scenes with Lawrence, a very unopen-minded and somewhat sexist character, trying to play off his dojo, Eagle Fang, as accepting of all genders and sexualities. Such heavy topics of today's society seemed crudely intertwined into the show, adding no cinematic benefit to the actual plot.
The plot of this half-baked season was completely overshadowed by middle-aged men fighting over high school karate. The constant back and forth between Daniel LaRusso and Johnny Lawrence destroyed any hopes of a decent season, and discouraged any desire to finish the season the whole way through. 
To add on, the characters we have all come to know and love throughout the four seasons of Cobra Kai, changed drastically in this season, either for better or worse. 
Samanatha LaRusso, played by Mary Mouser, is one of the most unlikely characters in the entire show. The storyline of a good girl who was attacked by a cruel and mean one has led to unrealistic outcomes of Samantha's character growth. Before being attacked in season 2, Samantha was a quiet and nice person who had everything going for her. Now, she likes to start fights with her attacker who has tried to do better, and lies and manipulates everyone around her. This isn't a problem with the actress, who played the role perfectly, rather a problem with the writers, who think that Samantha LaRusso would make such a drastic change in the time span of only a few months. 
On the contrary, Samantha's attacker, Tory Nichols, played by Peyton Roi List, was one of the best characters throughout the entire season. As more of her backstory is revealed, Roi List did an amazing job at portraying the emotions going through Tory's head, and her struggles that affect her whole life. Although she has done some questionable things in past seasons, strides were made by both the writers and Roi List to display how Tory wants to get her life back on track. 
All in all, season 4 left a typical Cobra Kai ending of dropping a huge secret or problem to be resolved in the next season. The show has gotten progressively worse as time has gone on, and it shouldn't have gotten to a season 4 to begin with. With uninspiring characters and cliche plotlines, it doesn't look good for the new season to come. 
About the Contributor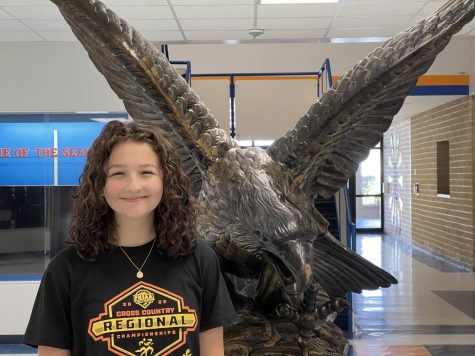 AJ Cudnik, Editor-in-Chief
In the words of Taylor Swift, "I'm intimidated by the fear of being average."