Path of Man makes history as student ran show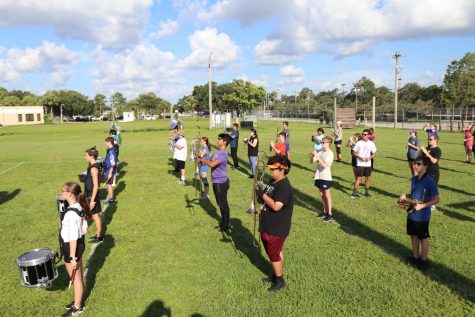 Chords ring, harmonized with the consistent beat of the drums, and yet the marching band is not playing a piece written by a vague composer. For the first time in history, the marching band of Cape Coral High School is performing a show exclusively composed, conducted, and choreographed by students.  
In a ground-breaking decision, Cape High's Band Director Eduardo Ortega has decided to hand the band students complete control over the marching band performance. "I've decided to kind of pursue this academic objective, because it's a dream of mine to have an entire marching band show run by the students," explained Ortega. 
Senior Brandon Bidwell, is composing the music, while Senior Raven DeCamp is conducting the entire show. DeCamp has been part of band for more than six years and was chosen as the drum major based on her exemplary work ethic. 
"The characteristics that she did well in are the characteristics that I was looking for in a drum major, her score was prepared, annotated," said Ortega. "She wanted to take control of the room. She's a good musician."
Ortega's decision has caught the attention of Patricia Gingras, the head of music at Florida Gulf Coast University. She has decided to use Cape High's marching band as a case study in an investigation about student-led learning, with a concentration on music. While a marching band show being run by students is a first at Cape High, it is also a first in the district, state, and possibly even the country. 
"One of the most unorthodox things that [Ortega] has done is he has essentially handed over control of the music of the marching band show this year to students," said Gingras. "Do you know how rare that is? I don't think that's ever been done."
As for composing the music, the band students will have complete authority over what is being written, while Ortega is only planning to serve as mentor in the entire process. Many students have had to learn how to compose music and accustom themselves to new programs. 
"I was kind of scared because I've never written or transcribed music before," said Senior Woodwind Captain Elaina Hawkins. "So I had to learn a whole new program, which was a little intimidating, but I think it's gone okay so far." 
While the beginning processes are challenging, the students are thrilled to be part of such a melodious creation. 
"In this case, we're sort of interpreting with our own imagination, our own creation, and putting it on our page," said Senior Brass Captain Liam Feahr. "So rather than taking what's already on a page and making it our own, we ourselves are putting it on a page, and then just going from there, and I think that's what music is all about. I love improvisation."
Students, teachers, and administrators are working hard to simultaneously support the band team's work and collectively boost school spirit. Student Government has spread the word of the show, to the point where a large majority of students in Lee County, both in and out of Cape High are anxious to see what type of show the students have created with their own effort. 
Gingras believes that the development of Cape High's marching band show is integral to the creation and spread of student-led learning in the future.
"And so I'm thinking like 25 years down the road, when this is normal for high schools to do, for students to write the show to give input into the show," said Gingras. "And you all can say, 'I remember it was in this dark office and we were talking about how this is probably a first.' "
About the Contributor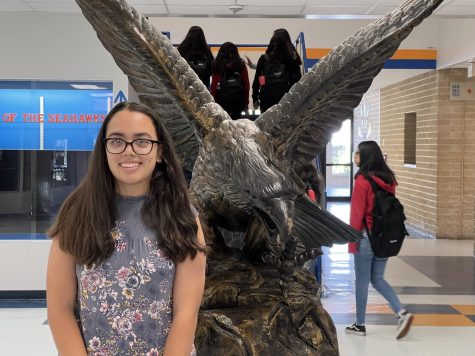 Sophia Dupeyron, News Editor
A book-obsessed writer with oatmeal raisin cookie humor.