The voices of Cape prepare for Carnegie
Musicians spend their whole lives awaiting this one moment.
Years of assiduous dedication and strenuous effort are what it takes to walk the rouge velvet aisles of the most legendary hall outside of Europe.
From March 18th to March 21st, six members of Cape High's very own choir will be attending and performing in Carnegie Hall. 
Auditions for the trip were held after Choral Director Kristi Fish was offered the opportunity by a past mentor. "My mentor, Dr. (Trent) Brown, he's the choral director at FGCU (Florida Gulf Coast University) and he's the artistic director for the Southwest Florida symphonic corral," Fish stated.
"He was invited to conduct at Carnegie and then he was able to invite certain schools who he wanted to reach out to."
The students were selected based on their musical and economic capabilities. "The biggest thing is can you pay for the majority of the trip. Can you fundraise. That's always the big question. The trip was about $1755 per student. Then obviously musicianship skills. They had a reading example that they had to do and they had to prepare a traditional or classical piece for me," Fish said.
The students selected were Carlos Esquilin, Dezaray Gartin, Tiffany Sanchez, Brittany Bui, Spencer Lee, and Louise Lin.
Junior Dezaray Gartin was shocked when she was told by Fish that she was one of the students selected. "I'm looking forward to working with other conductors but also seeing New York for the first time. I'm expecting to learn what it's like to perform with a big choir," Gartin said.
"I've been practicing with the others but also it's a lot of self dedication. I've worked for numerous hours on the music and I won't stop until we perform."
The students will be performing two collegiate level works, the Rutter Te Deum and the Rutter Gloria. Fish herself will also be performing a work. "I'm singing myself at Carnegie. I'm going to join them while my husband is going as another district chaperones, so he will be singing the bass part. It's going to be a lot of fun," Fish said.
The students have been rehearsing once a week from 1:35 PM to 3 PM once a week since August. "We've been preparing for this trip every week with rehearsals that last around an hour and a half," sophomore Brittany Bui said.
"We run through what we learn per movement and then dive straight into learning more parts until we complete the song. It's a bit of a process because the songs are quite long and difficult, but with time and effort, it isn't impossible to learn."
Despite the long hours and tiring practice, the choir group is ecstatic and cannot wait to perform. They hope to learn from the experience, meet new people, and see some of the sites New York has to offer. "I was actually more than thrilled to be given the opportunity to participate in a choir with people of different ages and backgrounds all united by one passion, and sing at such a prestigious place like Carnegie Hall," Bui said.
"I am looking forward to being exposed to a new environment and experiencing new things, specifically working with new people and the talented choral conductors, as well as performing with an orchestra."
About the Contributor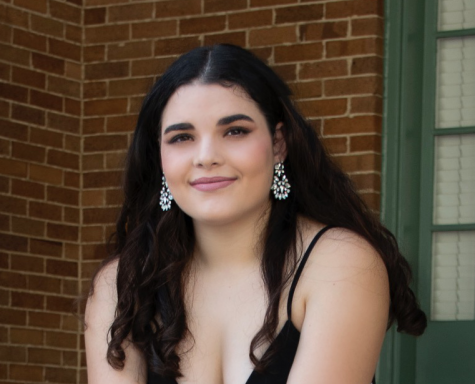 Melanie Pena, Past Editor-in-Chief
Instagram: @melaniepenabombino