Women participating in male-dominated sports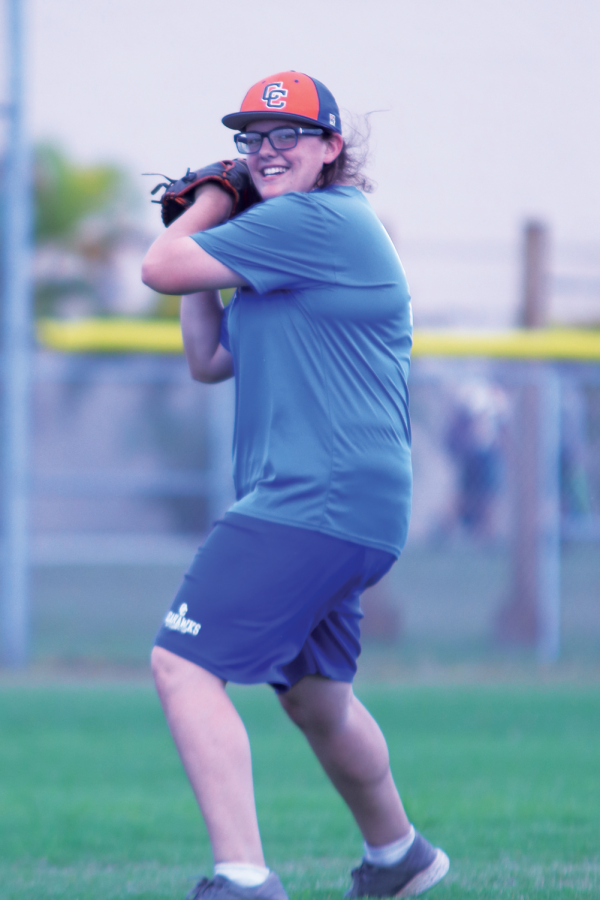 Junior Sophia Mathewson and freshman Jade Huggins are changing the world. They're challenging the current status quo and not allowing limitations put on them by society to bring them down. They are doing this by tackling and excelling in male-dominated sports.
As one of the only 1,000 girls estimated to play baseball as a female in high school, Mathewson has been playing baseball for ten years and hasn't ever thought about playing softball. "I've been playing this sport since I was seven and never played softball before, so all in all, why would I stop playing something I'm good at, and waste all the years of training to switch to another sport that people assume I have to play because I'm a girl?" said Mathewson.
 Huggins has been playing football for four years, including for the Lee County Hawks prior to high school and has a big goal in mind. "My dad played football and just never decided to go pro, and I always dreamed of achieving his goal. He's my world, and I've always been a daddy's girl," said Huggins.
Even though some may look at these female athletes like they're crazy because they are playing a sport with the boys, their teammates don't see them as any different from the rest of the players. "They don't look at me like a girl on the team. They look at me like a teammate and a sister, and that's the best thing they could possibly do," said Mathewson.
As an athlete, teams are always looking for unique ways to possibly stand out from the other teams. "My other teammates didn't really think it was weird or anything, but they were really excited because this would make us stand out from the other teams," said junior baseball player Matthew Theofel.
Mathewson experienced some challenging times during her career but has never let that bring her down. "When I started up until highschool, some seasons were really bad [while] some seasons were okay," said Mathewson.
The girls have a goal in mind, and they are going to stick to it. People are always going to have something to say when others are doing something different than the rest of the crowd, and that is just something they have to deal with.  "Over the years I've had to put up with lots of criticism, nasty comments, and unfair treatment even if I played amazing," said Mathewson.
She believes it's important to have pride in each and everything one does and never look back. High school has helped Mathewson out a lot, and she is now excelling in her career as a baseball player. "Once I made it to high school, that's when everything changed. The coaches at Cape High are the best coaches I've ever had, and my teammates after the first few official months of freshman year are now like my brothers," said Mathewson.
Being able to bond with the team becomes crucial to building trust and reliability during a game. "Out on the field, I'm like their brother," said Huggins. 
It is expected to be treated a little bit differently when you're doing something different than what people are used to, and Huggins has experienced that during her career. "Other teams seem not to hit me or block because I'm a girl," said Huggins.
"We always try to hype her up and talk to her a lot to make sure she feels comfortable. We always make sure to tell her things like good job," said junior football player Alto Tarver.
Although Mathewson's seasons have been going good, there are still times where others don't agree with a female playing in a "male" sport. "There is the occasional comment or bad behavior from other teams, coaches, and players here and there, but at this point, I am expected by the majority," said Mathewson.
As they should, the good times always outweigh the negative. "I've got to say, my favorite thing about baseball is the continuation of learning new things every year. This sport has changed my life so much. I love teaching and learning new ways to improve my games and to help others in their game. Plus, [with] all the great friendships I've made over the past three years, it's like going to see family every day," said Mathewson.